If you wish to cancel your web hosting (or any Product/Service at KartHost) follow these simples steps.

IMPORTANT: If you have a Domain Name registered with KartHost, and that domain name is used with the service you are canceling, the system should ask you if you wish to cancel the domain name. If it does NOT ask, and you no longer wish to keep the domain name, you will need to Cancel Domain Name Auto-Renewal for your Domain Name as well. 
If your domain name is NOT canceled, and you have Domain Name Auto Renewal ENABLED your domain name will renew at the then-current applicable rate, and we can not refund domain name renewals.
Please review this Knowledgebase Tutorial to cancel your domain name: How do I Disable Domain Name Auto Renew?

MAKE A BACKUP OF ALL YOUR FILES IF WEB HOSTING OR EMAIL. Once Terminated you will no longer have access to your files!
1) If you are not logged in to your KartHost Account, you will click on All Logins > then on the Login page you will see the login to the KartHost Customer Center. 


2) Once logged in to your KartHost account,
A) Click on  "Services" and
B) then  "My Products & Services". Alternatively, you can... 
O) Click in the box labeled "Services"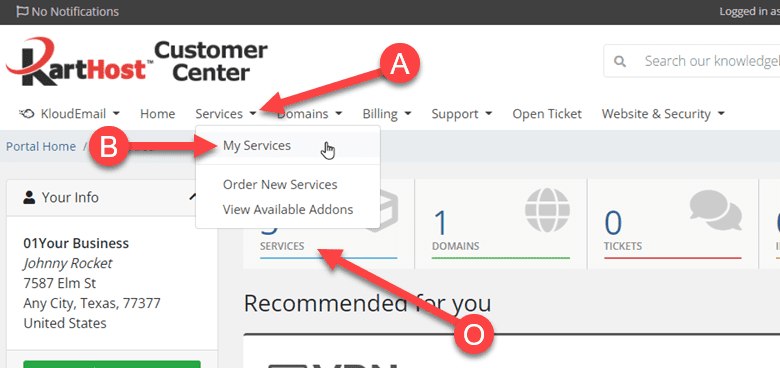 3) Carefully select the service you wish to cancel,
A) If you have multiple Products / Services you might wish to use the search tool, search by the domain name
B) Once you have located the Product / Service you wish to have canceled click anywhere on that line item (except the blue text of your domain name) to open up the next page.



4) Once on the "Products Details" page for the service you wish to cancel, in the left-hand column under the Actions column, click on Request Cancellation.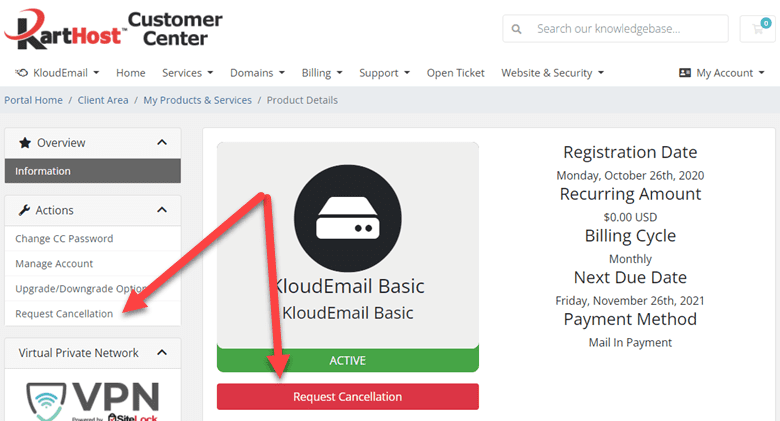 5) The page you will be taken to is the "Account Cancellation Request" page.
A) In the "Briefly Describe your reason for Cancellation" (we thank you for your honesty) please fill in the reason for your cancellation.
B) From the drop-down menu select either Immediately (which will cancel your service immediately and remove your services within 24 hours or less), or select "End of Billing Period" this will cancel and terminate your Product / Services at the end of the current billing cycle. 
C) Now click the Request Cancellation  button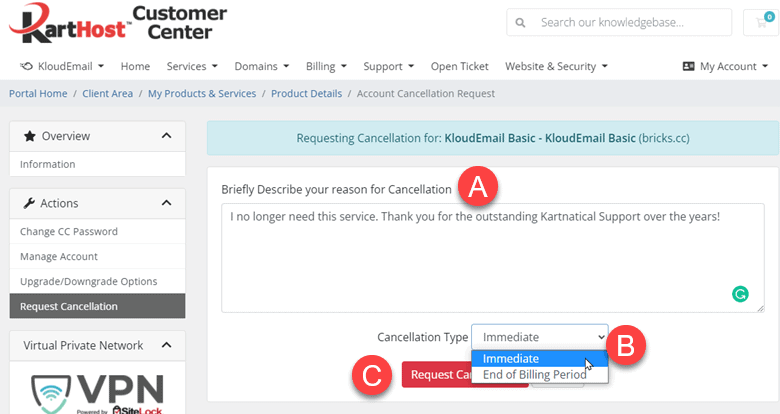 6) Once canceled you will see the green confirmation banner. On that same page click the <<Back button to go back to confirm the service or product is canceled.





7) Back on your Product / Service page, you will see the message "There is an outstanding cancellation request for this product/service" and will appear until the service has been terminated. Note all future invoicing for this product service will have ended and any invoices outstanding will be canceled (however confirm once canceled. To confirm go to Billing > My Invoices on the top navigation menu)





8) After your selected service has been totally terminated when returning to this Product / Service in your account you will see the message the "Cancelled" banner below the service name.




NOTE: Please contact Billing Support should you have Canceled by Mistake or if you have changed your mind.

END OF TUTORIAL

updated - January 25, 2022