updated August 4, 2022

If you have a credit card on file in your KartHost Customer Center Account your domain names will automatically renew, if Auto Renew is "Enabled". However, if you no longer wish to keep a domain name and do not wish your domain name to renew you will need to Disable the Domain Name Auto Renew feature. The Domain Name Owner is responsible for this action.
(Note: if you do not keep a card on file, the Auto Renew will act as an Auto Reminder and it will be your responsibility to renew the domain name before expiration)

Note Regarding Invoices: If your Domain Name Renewal Invoice has been generated. AFTER disabling Auto Renew, the invoice with your domain name renewal associated with it will want to confirm your domain name renewal has been Cancelled (if the domain name is the ONLY line item). OR if there are other line items on said Invoice, the Domain Name Renewal Line Item has been removed from a multi-line item Invoice. Please understand we can NOT refund Domain Name Renewals for any reason.

Disabling Auto Renew:

1) Make sure you logged into your KartHost Customer Center account. On the navigation click on (A) "Domains". (B) A resulting drop-down menu will appear and click on "My Domains"
(C) Alternatively - you can click the box showing "XX DOMAINS".




2) Now on the resulting My Domains page look for the domain name you wish to disable auto-renew. (A) If you have a lot of Expired Domains just tick "Active" and only your active domain names will show (helping to clear the clutter). (B) After locating your domain name, you will notice "Auto Renew" right below the domain name. If it has a green check that means Auto Renew is Enabled. A Red X, it's disabled.  (C) Now check the box for the Domain(s) you wish to manage (you can manage more than one). (D) Click on the More... on the submenu and you will get a drop-down menu. Click on "Auto Renewal Status".
Note: If you only need to manage one domain name and have multiple domains it might be quicker to search for the domain name using the Search Filter. In the image below the search field is hidden partially by the drop-down menu shown by (D) arrows.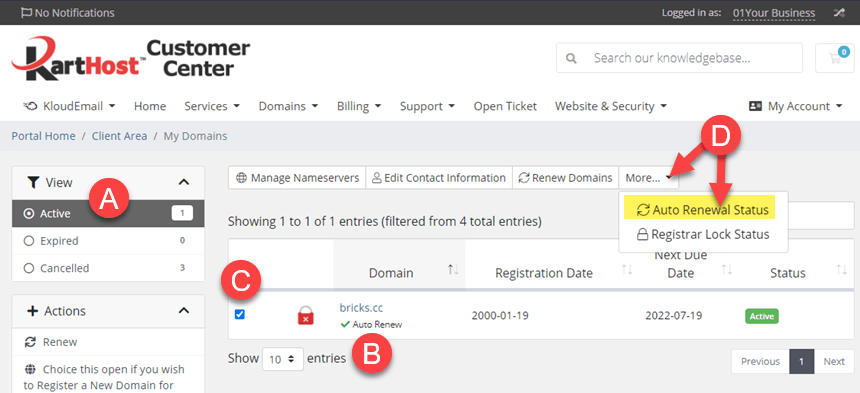 3) On the resulting page, you will see "Auto Renewal Status" of all the domain names you check. Now to disable Auto-Renew click the RED "Disable Auto-Renew" button. 
NOTE: If you wish to ENABLE Auto-Renew click the green button that says "Enable Auto Renew".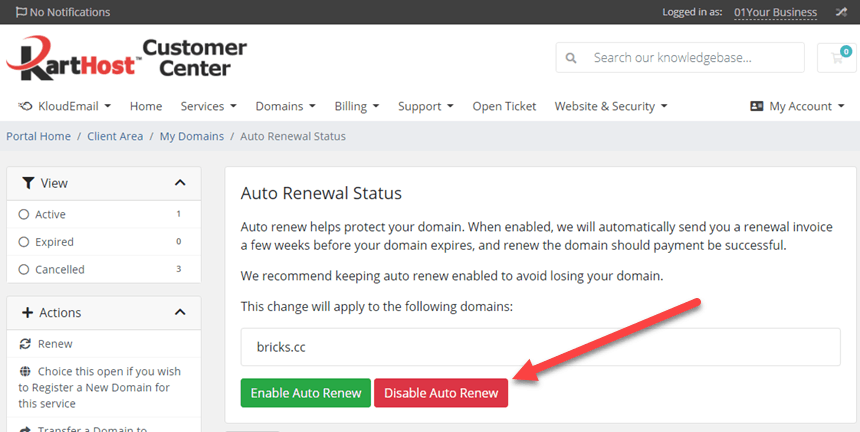 After you have clicked the "Disable Auto-Renew" button (A) You should see the green banner with the words "Changes Saved Successfully! 
(B) Now click the "<< Back" button to go back to the My Domains page so you can confirm you see a red X next to "Auto Renew".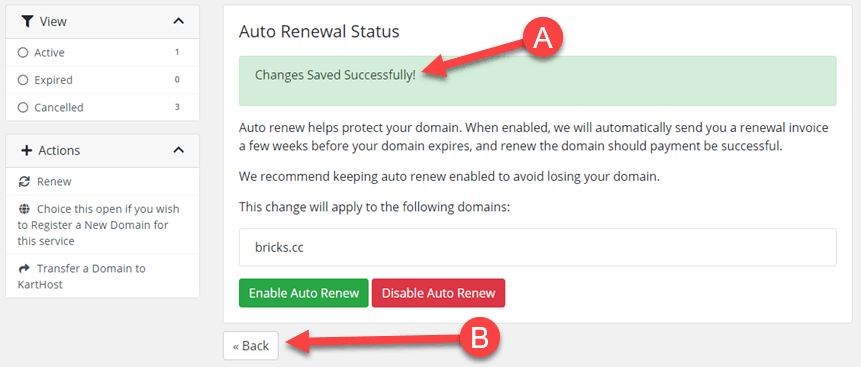 4) Back on the 'My Domains' page locate your domain name and you should see a red X next to 'Auto Renew'. This confirms the system will not auto-renew your domain name.
(Note: If your credit card is removed, the system will still send out a notification, but will not auto-renew your domain name.)
If you want to ENABLE Auto-renew, you should see a green checkmark next to "Auto Renew".

5) IMPORTANT: If you disable auto-renew AFTER an invoice has been generated, you will need to go check your invoice in your account to confirm (1) Your invoice was Cancelled, OR, (2) if your Domain Name renewal was on an invoice with multiple Line Items, make sure your domain name renewal line item was removed.
If the invoice was canceled or the line item wasn't removed open a Billing Inquiries Support Ticket IMMEDIATELY. Provide the Invoice # in the Ticket.  
Note: if the domain name is renewed we CAN NOT give a refund of domain name renewals (absolutely no exceptions).
Not sure where to find your Invoices? To find your Invoices simply click BILLING on the Customer Center navigation and from the drop-down menu My Invoices and on the Invoices page locate the invoice that has (had) your Domain Name.
You might be interested in this Tutorial: Domain Name Deletion Phases and How they Affect Your Domain Name
END OF TUTORIAL
Looking to register a NEW Domain Name for your new Website of KloudEmail Service? Start Here!