revised February 12, 2018  

If you originally registered your domain name with KartHost or Transferred your domain name to KartHost, unless you specially specified your KartHost Customer Center account details became the source for your Domain Name record. Remember your domain name record is the legal document of ownership of your domain name and your slice of the internet it's your responsibility to make sure the domain name record of the domains you own remains correct.

Here is how to find and make changes to your domain name record for your domain name registered through KartHost (if your domain name is registered with another register you will need to contact that register, KartHost can not help you).

Definition of titles in Domain Name Record and their importance:

Of High Importance:
   Registrant - This is the legal owner of the domain name (note: any changes to email address will need to be verified within 15 days if that email address is new to KartHost)
   Administrator (Admin) - This is the Domain Name Manager
Of Lessor Importance:
   Technical Contact - Manager of technical issues, usually the same as Administrator
   Billing Contact - Is the authorized person to receive renewal invoices usually the Registrant or the Admin.

IMPORTANT NOTE CHANGE TO REGISTRANT DETAILS: Per ICANN as of December 1, 2016 whenever you make any changes to one or more of the following Registrant: Name, Organization (Company Name) or Email address, two (2) emails will be dispatched out to the previous email address (Current Registrant) and the new email address (New Registrant). If the email address wasn't changed these two emails will be sent out to the same email address and BOTH must be approved even if no change requested on the email address.
SEE: Changing Domain Name Registrant Approval Requirements (IRTP) tutorial for more details and screenshots.


Steps to follow to change contact/owners information:

1) Log into your KartHost Customer Center account Click on (1) 'Domains' > 'My Domains' > or (2) The DOMAINS block, you will be taken to the My Domains page.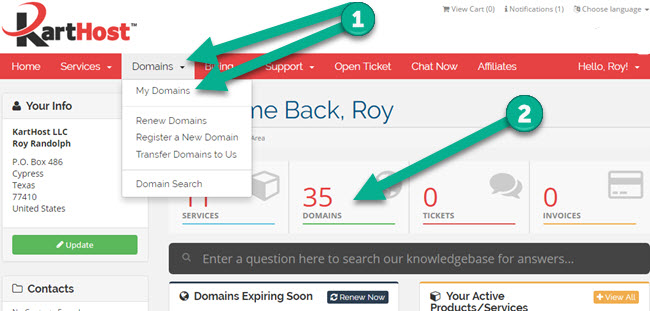 2) On the My Domains page locate the domain name you wish to manage. (1) You can sort a column by clicking the up or down arrow, (2) or search for a specific domain in the "Enter search term..."  field. (3) Once you have located the domain name to manage, click the green Active button.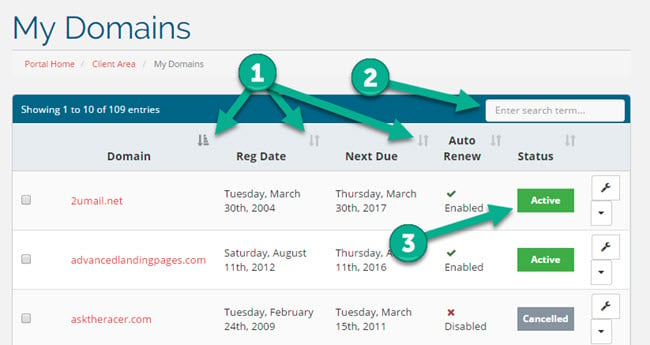 3) You will then be on the "Managing <your domain name here>" page. On the left column click on Contact Information.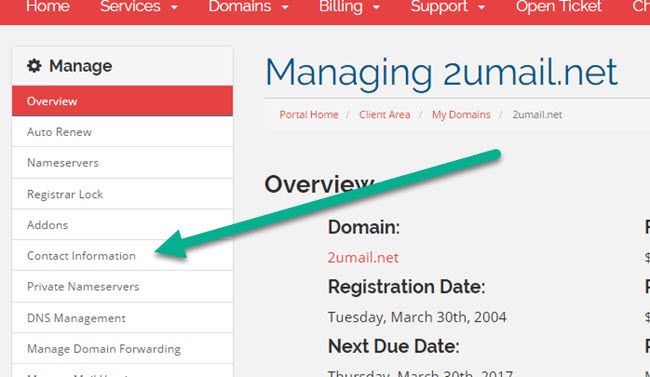 4) On the resulting Contact Information page for the domain you selected you can view the existing Contact information for the Registrant, Administrator Contact, Technical Contact and the Billing Contact (and view to see if the WHOIS ID Protection $$ is activated for your domain) by clicking the Contact Information you wish to view on the left column under Contact Information.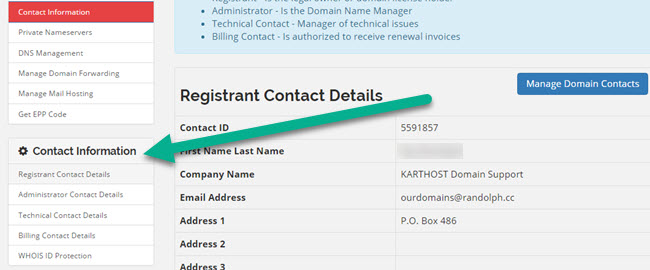 5) Making Changes to the Domain Name Records - If you need to make a change to specific "contact information" on the record, you need to understand that we set the records in groups called "Domain Contacts" (and each domain contact has its own setup name, company address etc). And each Domain Contact has its own unique number called a Contact ID for that Contact. You will need to manage a specific Contact ID to make changes to your domain name record. And you can have as many Contact ID's as you wish (if you need to reflect different owners or managers of a domain for an example).  (1) You will notice when viewing the Contact Details the Contact ID is showing at that top of the record. You will need to make note of that Contact ID and (2) when you are ready you can click the "Manage Domain Contacts" button.





6) Now you will be on the Modify Contact page. This is where you will need to know your Contact ID you wish to modify. If there is more than one Contact ID's you have already set up (1) you will have a drop-down menu to select the ID you wish to make changes too. Select the correct Contact and then (2) click the Modify Selected Contact button.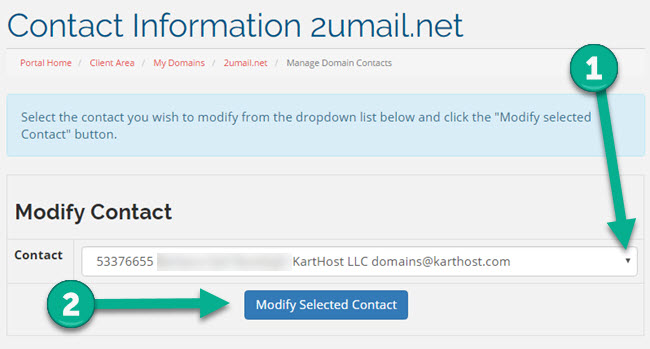 7) You will now be on the Contact Information page, and you will be able to make changes to the Contact. 
NOTE: Very important:
Phone Prefix is the Country Code (NOT area code) of your phone number. So for the US and Canada, this number will be the number 1 make sure it is placed in the Phone Prefix field. For other country's you can find your country code at this website: country calling code 
Phone Number - This is both the area code and the local number. So if you are in area code 832 and your local number is 220-0040 you will need to enter the number in the Phone Number field as 8322200040 (no dashes, spaces, dots or parenthesis, just numbers only) 
FAX Numbers are optional but need to be entered in the same way as the Phone Number if used.

Once you have made your changes click the green "Save Changes" button.
Now all domain name records using the Contact ID you modified will be changed for ALL domains using this contact ID.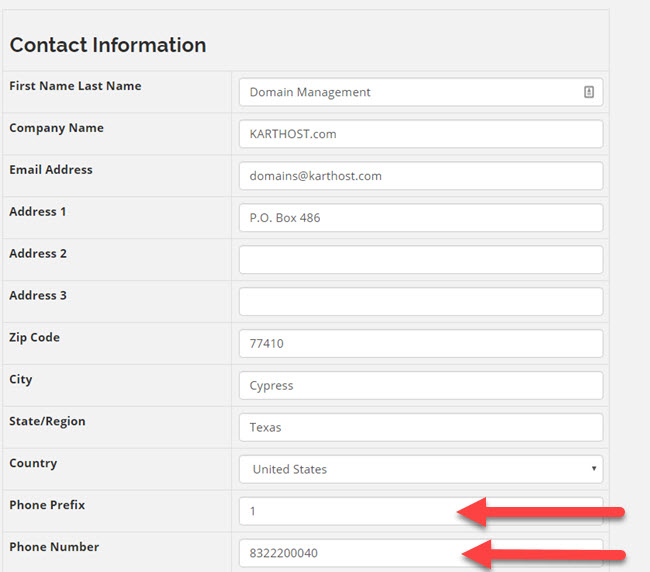 8) I wish to Use Different Contact ID's on my Domain Record.  If this is the case all you need to do is under Manage Domain Contacts click on "Change Contacts". in image A below.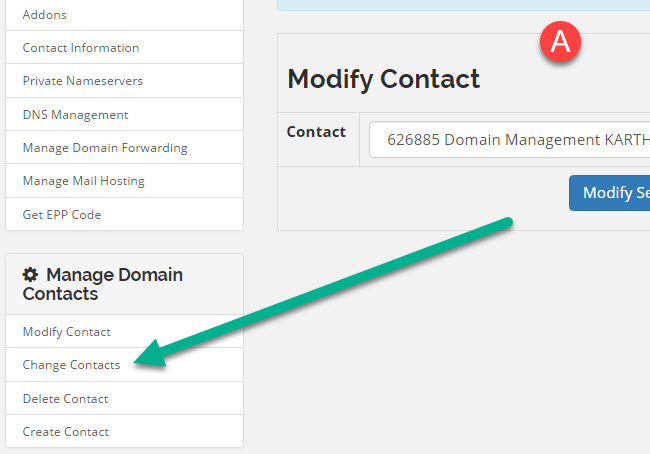 B Now you will be on the Change Contacts page. Just select which Contact ID you wish to use for each record (Registrant, Administrator, Technical or Billing) and then click Save Changes.


IMPORTANT - If you change the Registrant Contact ID and in that Contact ID is a different Email Address, you WILL have 15 Days to verify that new email address. If not verified within 15 days the domain will be suspended by the registrar (not KartHost) and can be unsuspended by simply verifying the email address. An RAA Verification Email will be sent out to the new Registrant Contact to verify. If you need to have that RAA Verification Email resent just review this tutorial: Resend RAA Verification Email NOTE: If the email address has been verified with another KartHost registered domain name, this will not be required.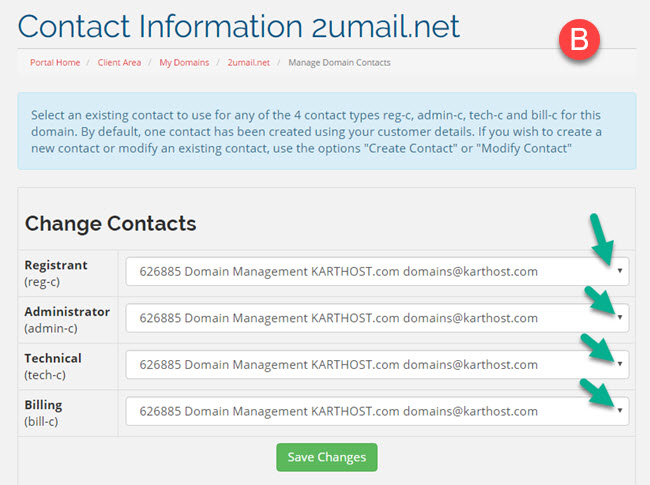 If you still have issues with your KartHost Registered domain name please open a Domain Name support ticket as soon as possible so we can help you. If your domain name is registered with another register, you will need to contact the register in which your domain name is registered.


Register Your Next Domain Name with KartHost.

END OF TUTORIAL