Are you using the KartHost KloudEmail system? If you are and you are having an issue of someone sending email to you and it is not getting to you, this isn't a problem on the KloudEmail end, its a problem on the senders sending email service. More than likely their email is on a Blacklist, or their sending IP address has a low reputation (not necessarily the fault of the sender), this usually happens when the sender has "shared web hosting email". However while the sender needs to get their issue resolved, at least there is something you can do that will at least allow their emails to reach you.

You can add the sender to your KloudEmail Safelist. Two ways to do this.

A) Adding to Safelist Using the KloudEmail Control Panel - you can add the persons email address (or Domain) to the Safelist via the KloudEmail Control Panel, this way the Safelist will allow all their email addresse(s) to pass. For instructions to Add an Email Address or a Domain to the Safelist using the KloudEmail Control Panel visit this KartHost Knowledgebase Article:Adding Email Address or Domain to Safe List

B) You can add it via your KloudEmail Professional Webmail panel - But that will only apply to for your specific email address. Not to all the other email addresses in your entire domain. Below is instructions on how to Add an email to Safelist using Professional Webmail:



1) You will need to login to your email address at the Professional Mail Webmail page: https://kloudmail.karthost.com
Once logged in click on the "hamburger menu" on the far right top of the page. And select "Settings" from the drop down menu as seen below:






2) Once the Settings window pops open
A) Click on the Spam Settings on the left
B) and then click on the Safelist tab.
C) On the Safelist tab go ahead and add your Domains and Email Addresses by clicking the Add button.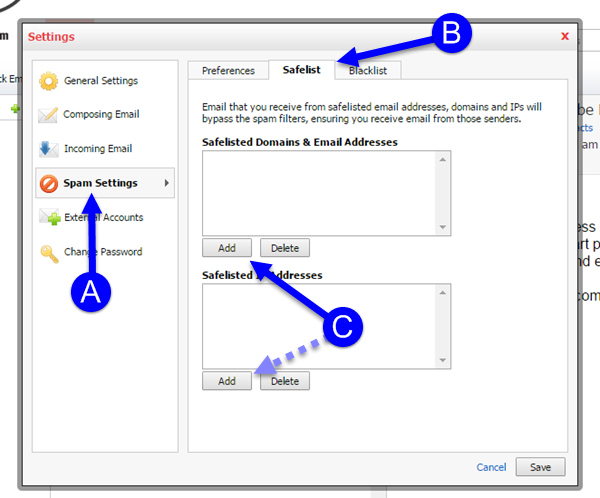 3) The Add Safelisted Domain or Email Addresses window will pop open. As a reminder do not saelist domains from large public email systems like, yahoo.com, hotmail.com, gmail.com as ALL emails from those domains will bypass the spam filters and you will result in large amounts of spam arriving in your mailbox. Only Safelist specific email address from those public email services.
Adding some ones private domain or company domain like karthost.com for an example would be fine.

Just type in the domain or email address in the field and click the Add button.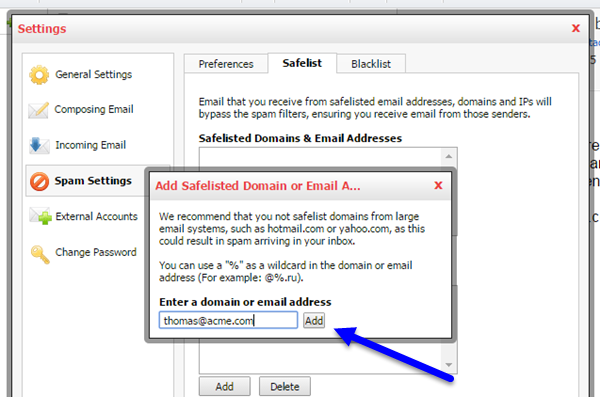 4) Safelisting and IP Address - If you know the sending SMTP servers IP address of the sending SMTP server that might be sending emails for several domains and those are private domains and email, you can just add the IP address in the Saelisted. Caution, for the same reason you would not save list public domains you should not Safelist public IP addresses otherwise you could open up your email box to spam.

A) Simply click on the Add button under the Safelisted IP Addresses box
B) And then the Add Safelisted IP Address window will open. Add your IP address (or range of IP addresses) and click the Add button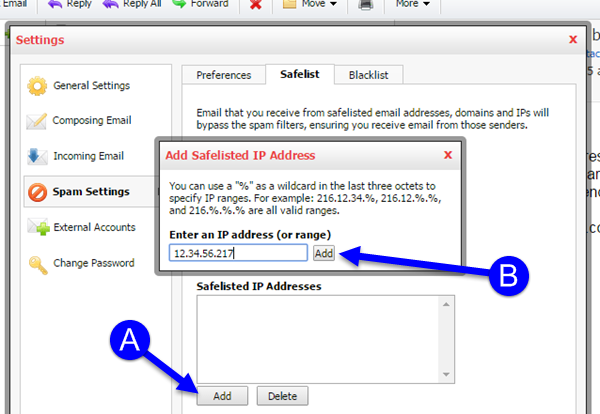 5) To delete a Domain, Email Addresses and/or IP address
A) highlight the one you wish to delete by clicking on it, and a blue highlight will appear.
B) And then click the Delete button.
C) A "Are you sure you want to permanetly delete the selected IP address?" will appear. Just click YES if you are sure. After clicking the domain, email address or IP will have been deleted.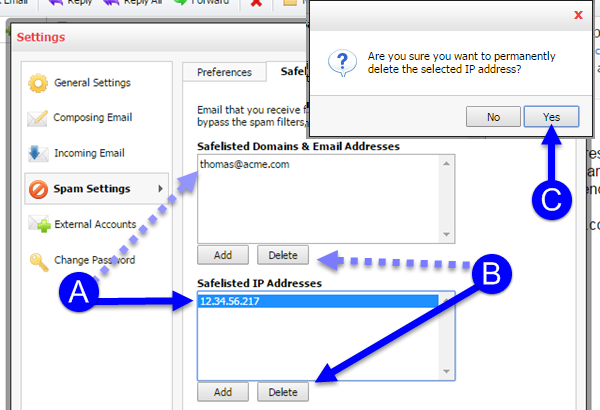 END OF TUTORIAL