When making any changes to the REGISTRANT Domain Name Record (even on a transfer) you are required to approve these changes.
This ICANN Policy Implementation which took effect on  December 1, 2016.

Once changes to one or more of the following to the REGISTRANT details: Name, Organization (Company Name) or Email Address two (2) IRTP emails will be dispatched out to BOTH the previous email address (Current Registrant) and the new email address (New Registrant). If the email address wasn't changed these two emails will be sent out to the same email address and BOTH must be approved even if no email change.

You will have 60 days for both of the emails to be approved before they are void.
IMPORTANT NOTE if TRANSFERING a DOMAIN NAME: If you are transferring a domain name to KartHost and if there is any change to the Registrant record, you will have to follow these steps before the transfer can be approved. While you will have 60 days to get these emails approved, the transfer request will only last for 7 days before it expires and is Canceled. So you will need to get both parties (if more than one person involved) to approve these emails BEFORE starting the process.

Here is the simple process of approving the emails, what the emails will look like, and the simple step to approve.
Once you make the above qualifying changes to the Registrant Contact to your domain name and click save changes, the two IRTP emails will be sent out.

Step 1) Current Registrant (Old): Will receive the following Email:
Make sure to click the link pointed to by Arrow A
B Arrow points to the fact this is the email sent to the Current Registrant.
C Arrow points so the date on which this email will be canceled if no action is taken.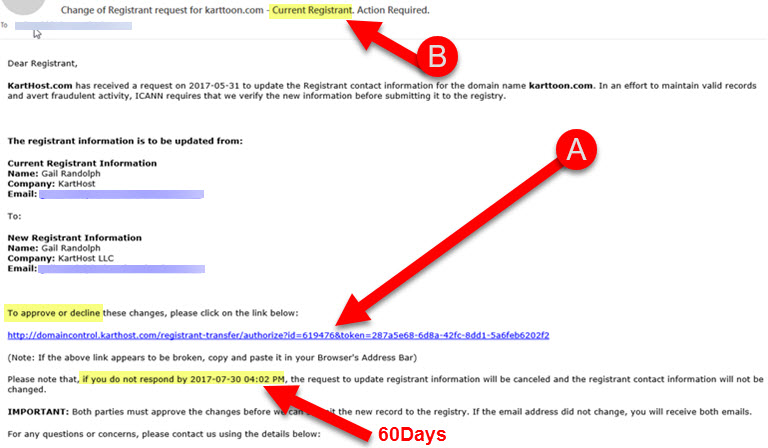 Step 2) Once clicking on the link this is the web page you will be viewing. By clicking the green Approve button will approve the process. Of course, if you have changed your mind or this action wasn't originated by you click the blue Decline button.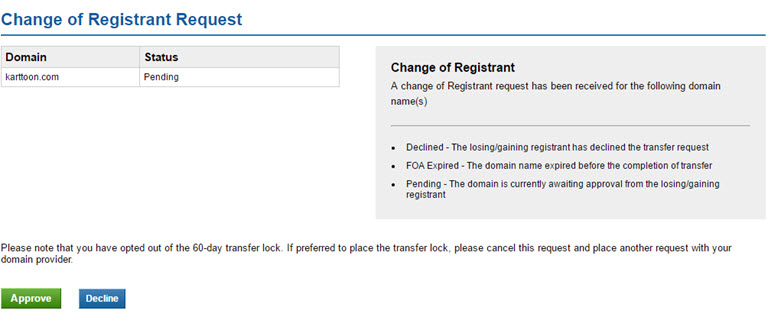 Step 3) After Clicking the Approve green button this is what you should see:





Step 4) The New Registrant email shows below, and looks very similar to the Current Registrant email with the exception it will say A) New Registrant in the email Subject. Which will have the new Terms and Conditions at the link shown at B)  And D) shows the date in which you must reply to the email or the changes will expire and cancel out and C) is the link to Approve (or decline) the change.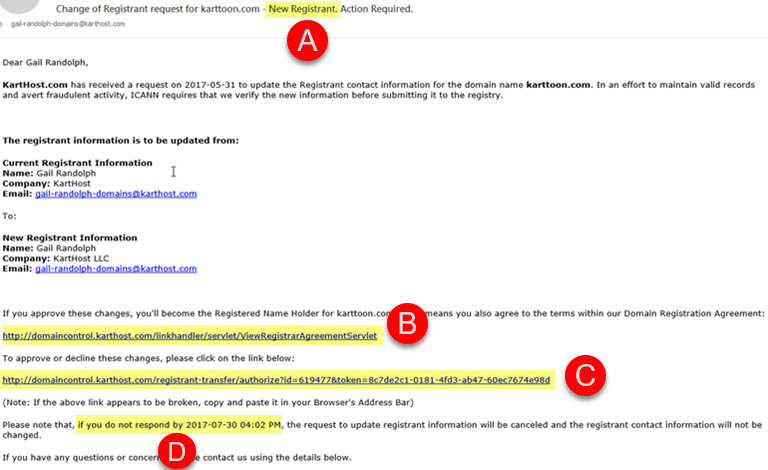 Step 5) This is the Change of Registrant Request page and where you will Approve or Decline. To Approve simply click the green button. To Decline click the Blue button. (Note if you Decline by accident, you must start the process all over regardless if you approved the Current Registrant as both must be approved or the process fails)





Step 6) This is the what the result should look like when you approve the New Registrant Email:





If you still have questions and are a KartHost customer or planning on or in the process of Transfering a domain name to KartHost, then place open a Domain Name Billing Support Ticket. We will be more than happy to help you out.


End of Tutorial