Needing to register a new domain name? If so, here is a quick and easy Tutorial on how to register a new domain name at KartHost.com
Just follow these simple steps in this tutorial:
Step 1)
Open up your web browser and type in www.karthost.com and you will be taken directly to the KartHost web site.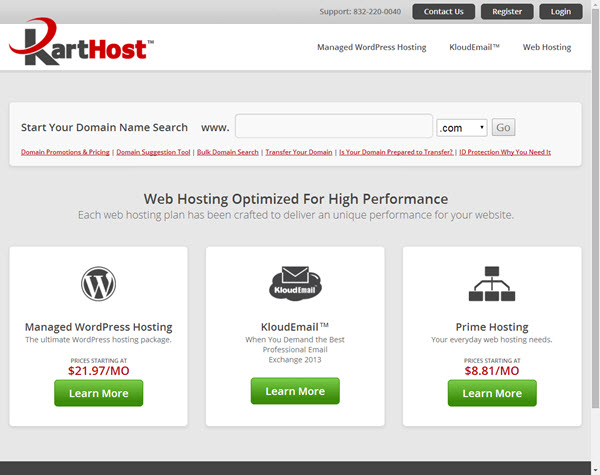 Step 2)
Type in your domain name you wish to order in the "Start Your Domain Name Search" field. Then select the .tld (.com, .net .org etc) and click the "GO" button.



Step 3)
On the resulting page you will see if your domain name is available it will say A) "Congratulations! [Your Domain Name] is available!" B) If you wish to order this domain make sure the box is checked and you will see the option to select the number of years . C) You can scroll down on this page to see other suggested domain names
D) Now Click the Red "Order Now >>" Button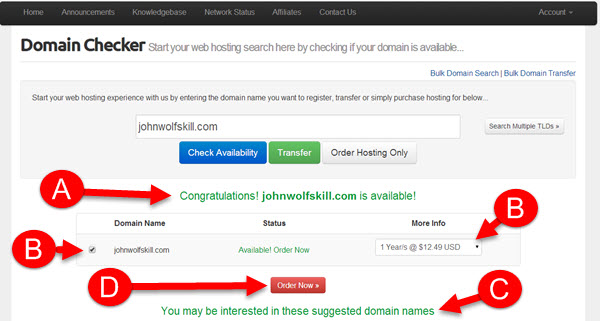 Step 4)
On the Domains Configuration page A) you will want to check "DNS Management" & "Email Forwarding" which both are free.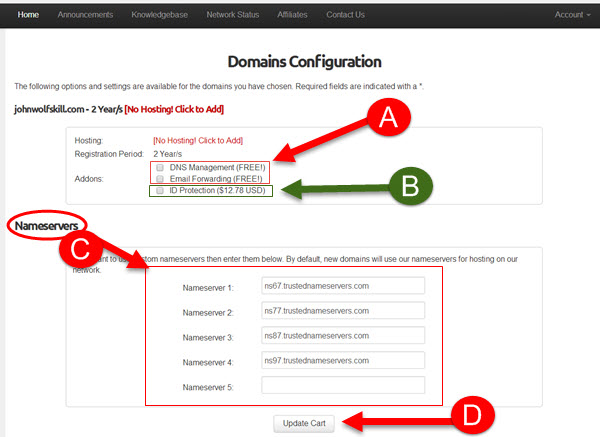 B) ID Protection – Your domain name record (which is a legal document that shows ownership) will be viewable to any one that looks up your domain name using a Domain Name Whois server. By default your record and personal information you place in the record will be viewable to the world. The ID Protection adds a proxy to your record so no one can see your personal details. Add an additional $6.99 a year for ID Protection, so if you are registering for 2 years the cost will be $12.78 as the example shows below. See this link for more details: http://www.karthost.com/domain-name-id-protection/
C) Nameservers – If you plan on using the free KartHost DNS service or Email Forwarding leave the Nameservers as listed. If you have web hosting somewhere else, you will need to place in the name servers your web host recommended.
If you have NO Idea what you have, just leave the Nameservers set the way they are during ordering. You can always change later.
D) Now click the "Update Cart" button to continue checkout.



Step 5)
Review & Checkout page – This will show the A) total due today and also the B) future recurring total.
Scroll down on the page and your will see two tabs, C) New Customer and Existing Customer, if you are a returning KartHost Client please click on the Existing Customer tab and you will be given the opportunity to login to your KartHost Customer Center Account
Otherwise continue as a New Customer fill out the form to payment options.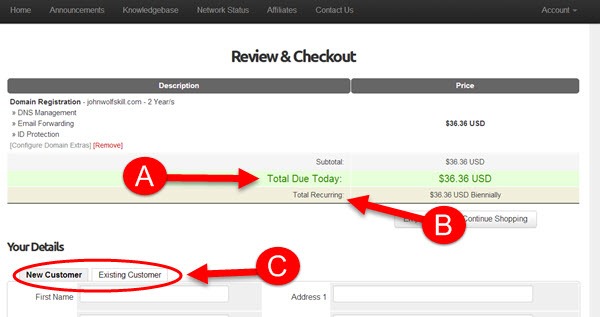 Step 6)
A) Domain Registrant Information – By default your new domain name registration will use your KartHost Customer Center account details for your domain record. If you wish for the domain name record to be different make sure to click the drop down menu for "Add New Contact…"
B) Promotional Code – If you have been given a Promotional Code please type it in now (case sensitive) and then click the Validate Code button.
C) Notes / Additional Information – Optional add any note you wish to pass along to KartHost Staff.
D) Terms of Service – Make sure to check the box Terms of Service
E) Now select your Payment type, Card Card is default and you have the Option to select PayPal.
FYI Note: For automatic renewals in the future you MUST have a Credit or Debit card on file. If you pay via PayPal you will be required in the future to manually login to your KartHost Customer Center Account and pay your invoice to renew your domain name.
SECURITY NOTE: Please be advised that we do NOT keep your card on file on our web site. For your security we use our Gateway, Authorize.net credit card
F) COMPLETE ORDER – Click the Complete Order Button and your after a few moments if you are paying by credit card or debit card you will see a successful payment. If using PayPal you will be sent to PayPal to finish your check out and payment.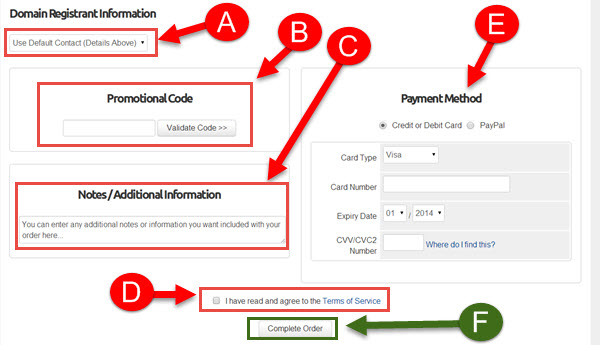 IMPORTANT AFTER DOMAIN PURCHASE –You still have on important additional step to make. You will be receiving a domain name verification email, and there will be a link in that email to click to verify your email address. This is a new process required by ICANN that has gone into effect on Jan 1, 2014. If your domain name is NOT verified within 15 days your domain name will be automatically suspended until verified. Note, during this time the domain name will not work for web site traffic nor email traffic or any other type of web traffic. So make sure to verify your email address. [END OF TUTORIAL]