These instructions are for KartHost Clients. If not a KartHost Client, we would be honored to have you as a client!
ICANN (ICANN.org) the governing body over Domain Names and Numbers requires any time you register a new domain name, transfer a domain name using a new email address that hasn't been used before with KartHost a Verification must be completed within 15 days of Registration. If this doesn't happen the Registrar must suspend the domain name. A RAA Verification email will automatically be sent out and again at 7 days and 14 days.

Please add our domain name karthost.com to your email services "Whitelist (Safelist)" so that our emails will not be blocked by your email service or placed into spam.

If you need to resend the RAA Verification email, you can contact us and we will be more than happy to help you resend. However, you can do this yourself at any time. Below is how to do this in your KartHost Customer Center Account.

1) We will assume you are logged into the KartHost Customer Center.
A) On the Customer Center navigation bar click on "Domains" and from the drop down menu click "My Domains".
B) Alternatively, in the DOMAINS block it will show you the number of domains you have in your account, and you can click that block.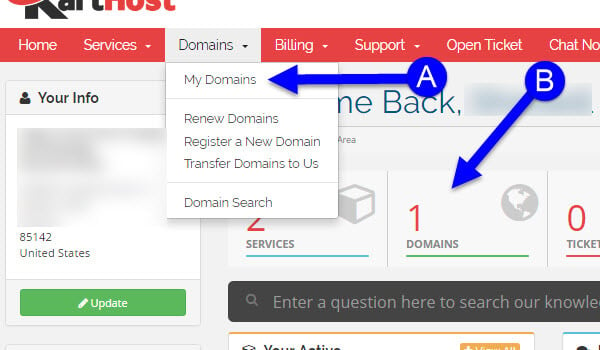 2) Once on the My Domains page, locate the domain name you wish to manage and then click the "Active" green button to manage the domain name.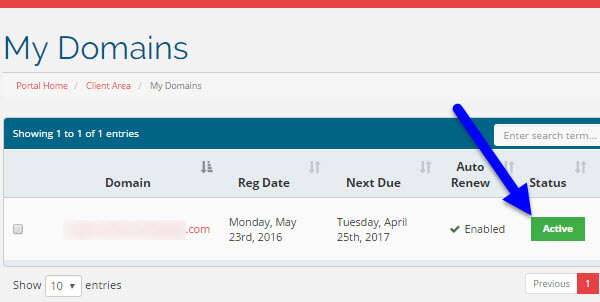 3) Once on the Managing yourdomain.name page and you will see the message "Verify Pending" message (if you do not see the message you do not need to verify your email address for the domain name in question).

Click the green "Resend Email" and within 10 minutes you should have your RAA verification email in your email mailbox, the email address you used to registered the domain name. The email address will show as the Pending Notification message as shown in the image below.
NOTE: If you have tried multiple times and still not recieved the email make sure to look in your spam and junk folders. If you haven't received the email then you will need to change email addresses. Please see this Article/Tutorial Changing Domain Name Record or contact KartHost Domain Name Support for assistance with this issue.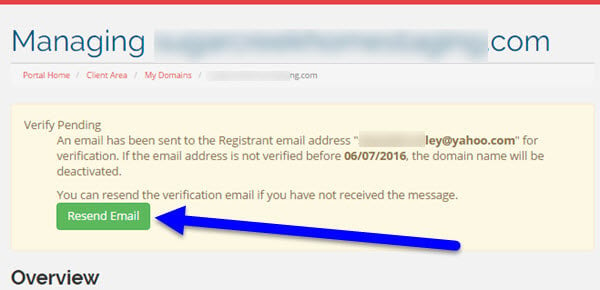 4) Sample of the Email that will be sent to you. Click the Link in the email represented by the red arrow below.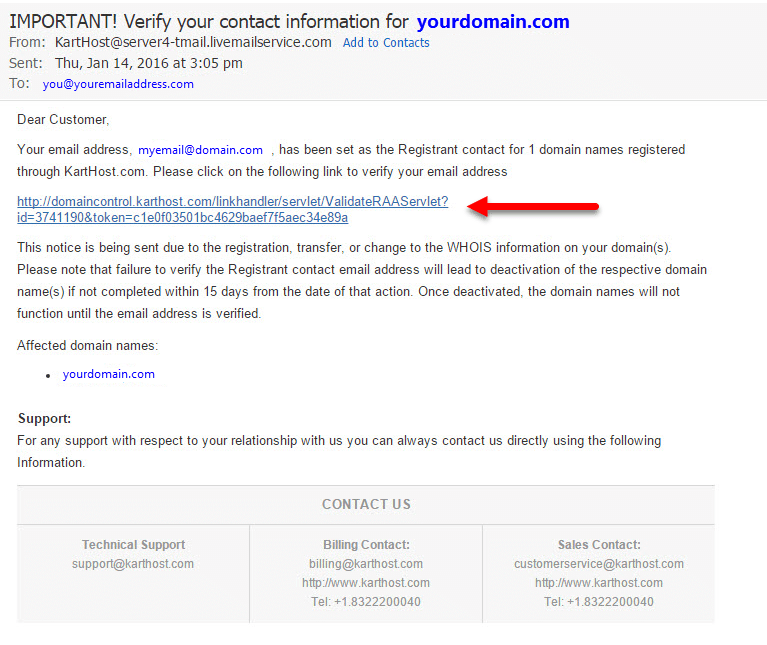 END OF TUTORAL
Updated February 26, 2021
Register Your .COM, .NET, .IO, .BIZ  Domain Name (and 250+ more)at KartHost.com