FOLLOW THESE STEPS TO TRANSFER YOUR DOMAIN NAME FROM GODADDY to KartHost.
NOTE: You CAN NOT Transfer a domain name that has been registered within the past 60 days. Also you can NOT transfer a domain name (.com, .net, .org, .us etc) and receive a 1 year extensio if your domain name has MORE than 9 years before it expires as of the day you transfer it. You can transfer the domain but forfeit the 1 year extension. As the maximum time most domains can be registered for is no more than 10 years til the expiration date.
STEP 1 - After logging into your GoDaddy Account look for the Domains Column and then click the "Manage" button.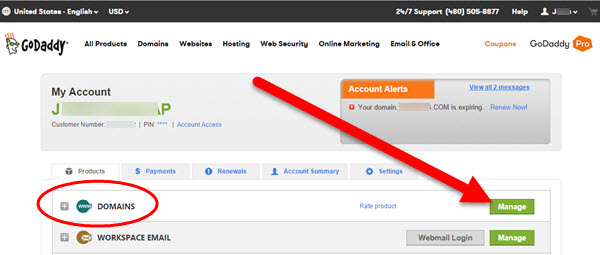 STEP 2 - Locate the domain you wish to transfer and click on the domain name, as shown below.

STEP 3 - You will now be on the DOMAIN DETAILS page. You need to confirm the Adminstrative Contact email address is correct. This VITAL. As all email relating to the transfer will come to the Administrative Contact.
Click on the "CONTACTS" tab on the DOMAIN DETAILS page as shown below.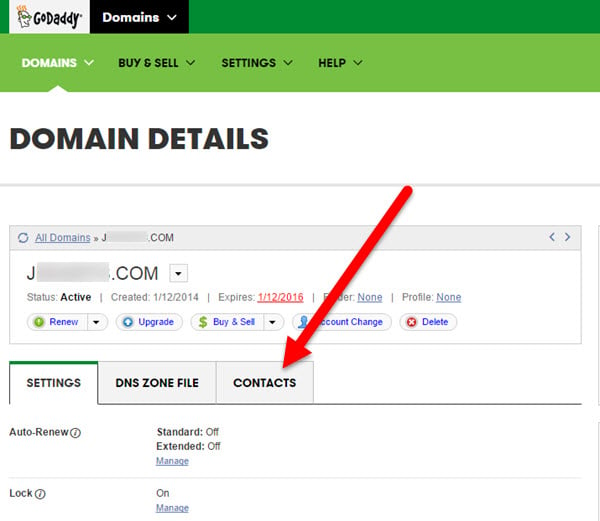 STEP 4 - Once on the "CONTACTS" tab scroll down to the "Administrator" and click the "Edit Administrator" link.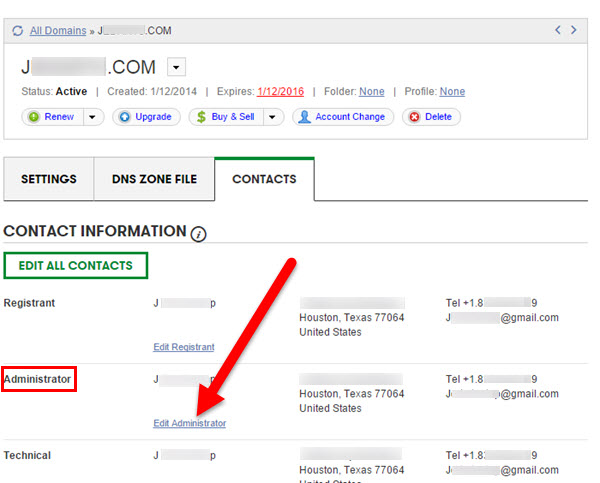 STEP 5 - Once you click on the "Edit Administrator" link, a pop up window will open. A) You will need to Scroll down to the bottom B) Once you see the "EMAIL:" field type in a good email address that you have access too.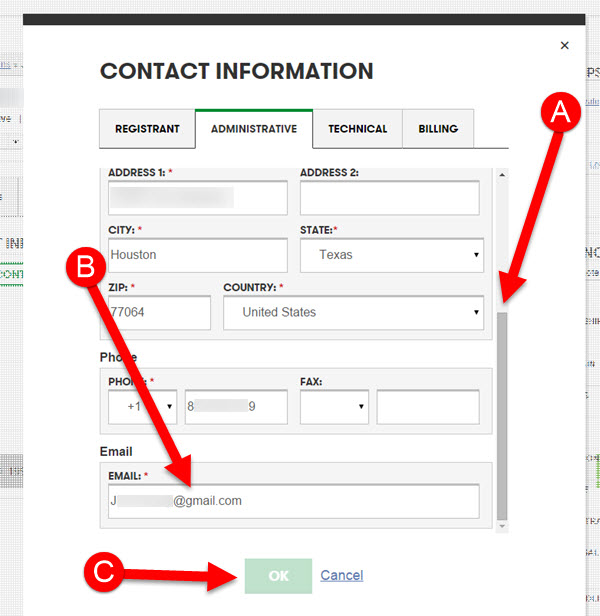 STEP 6 - Now with the Administrator email address confirmed, click on A) the SETTINGS tab. B) And locate and click on the "Lock" "Manage" link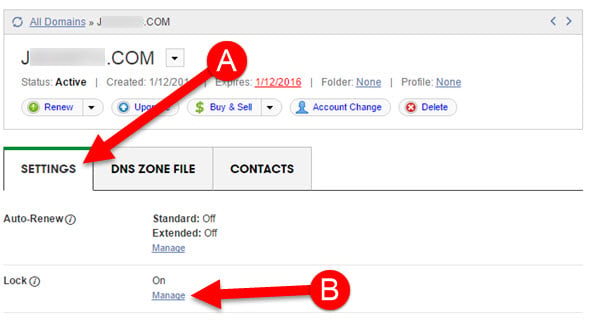 STEP 7 - When you click on the Lock "Manage" link a pop up window will appear as shown below. A) Tick the "Off" setting and then B) click the "SAVE" button to save your changes. If the lock is not set to Off, the transfer attempt will automatically fail.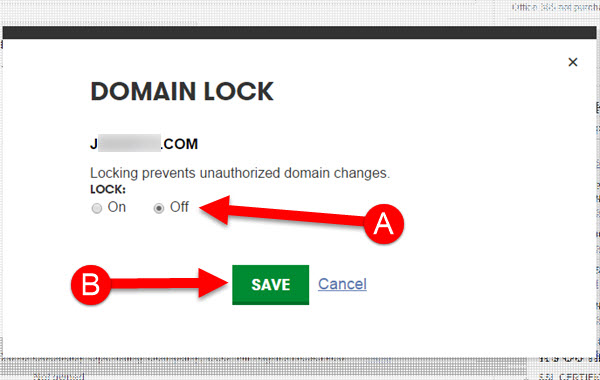 STEP 8 - Now you will want to verify the Nameservers that is showing in your GoDaddy account is the correct name servers you will want once you Transfer the domain. YOU CAN NOT CHANGE THE NAMESERVERS WHILE THE DOMAIN IS BEING TRANSFERED so make sure they are set to what you need. Otherwise you will have to wait until the domain name is in your KartHost account before changing. If the name servers need changing change them now. If you are not sure, ask us we will be glad to help.
If you do need to change them click the "Manage" link.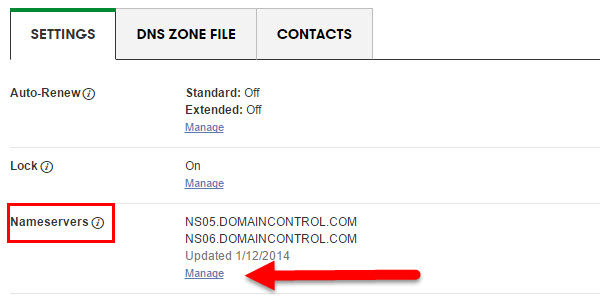 STEP 9 - You will need to obtain your Authorization Code (EPP Code) to start the transfer of your domain name at KartHost. Click the "Email my code".




STEP 10 - The "EMAIL AUTHORIZATION CODE" window will pop up after clicking the "Email my code" link. A) You will need to confirm the email address, is this a good one, you have access too? If not go back to Step 4 and change the email address before moving forward. B) If the email address is a good address, then click the "SEND" button.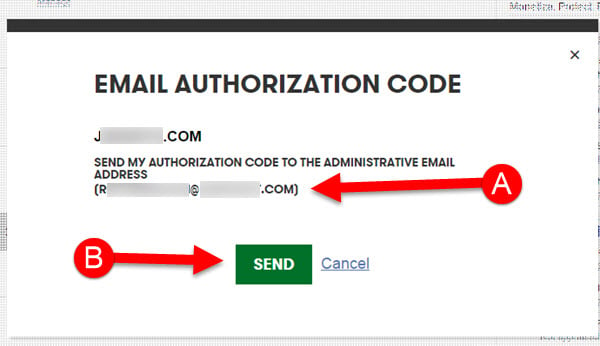 STEP 10A -  After clicking Send in the above step, you will be receiving an email with your Authorization Code as show in the sample below. Keep in mind this is also called a EPP Code and Domain Secret. Save this Code you will be needing it shortly.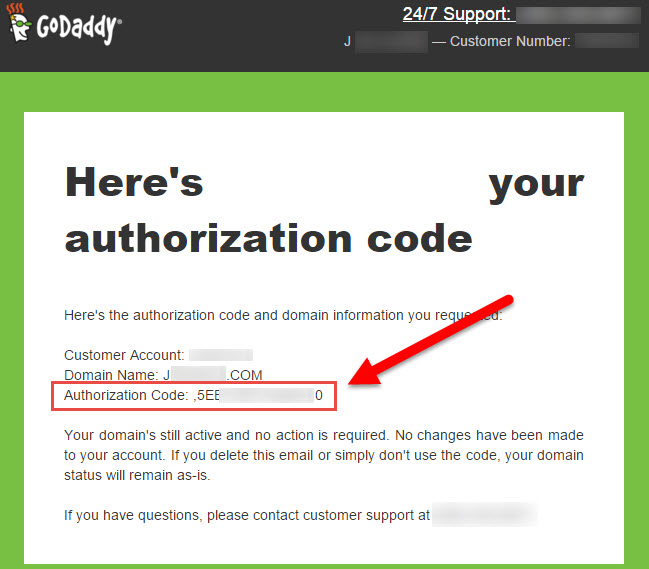 STEP 11 - Now with since you have your EPP Code (Transfer Code) in hand, your domain name lock is set to OFF, confirmed you have a working Administrative Contact Email address and any last minute changes to your domain name name servers, you can start the Transfer Process at KartHost!
Make sure you are logged into your KartHost Customer Center Account 
(Don't have a KartHost Account? Create one)
and on the navigation bar A) click "Domains" and then B) "Transfer Domains to Us"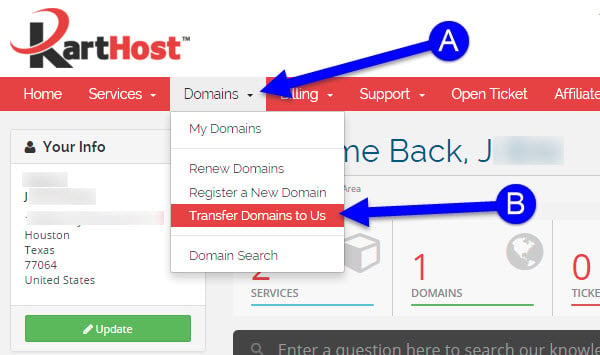 STEP 12 - Now you will be on the "Transfer Domain" page A) type in your domain name in the domain field B) Select the .tld (ex: .com, .net, .us etc) from the drop down menu, and then C) Click on the "Transfer" button to check for status of the domain.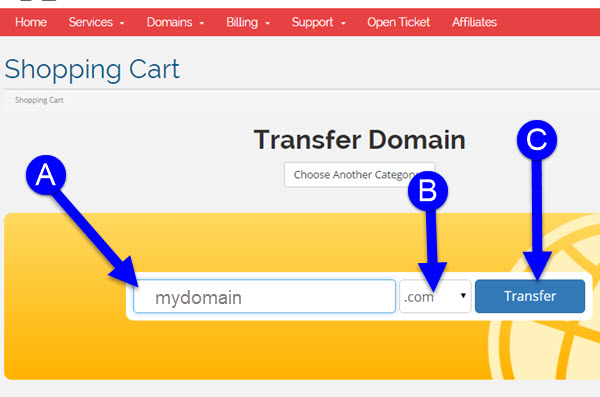 STEP 12A - If the domain name is available to be Transfered (meaning is a registered domain) you will see the A) Congratulations message with cost to transfer (it varies with .tld) and then B) Click the "Continue" button.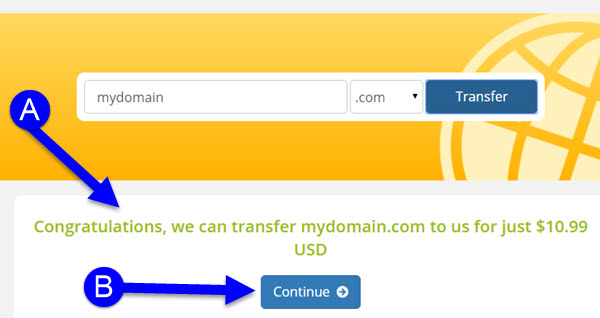 STEP 13 - You will be taken to the Domains Configuration page next, and this is where you will enter your
A) EPP Code (Transfer Authorization Code GoDaddy sent you).

B) Now select DNS Managment, and Email Forwarding both services are free. And if you want to protection your personal information in Domain Name Record, you can do so by checking ID Protection. ID Protection is priced in addtion to the domain name transfer fee/renewal/registation fee on an annual basis. 

C) Do not worry about name servers here. If you have KartHost products/services you can get your name servers from here: "What are my Name Servers for my web site at KartHost?" once your domain name transfers over.

NOTE: If you are using GoDaddy DNS you will lose that DNS, so the name servers will need to be changed once the domain is officialy Transfered. And you can use KartHost DNS.

D) Click "Continue" button when you are ready to move forward.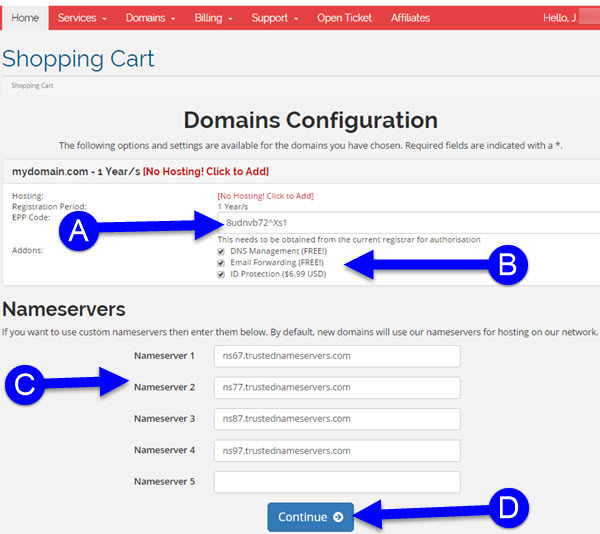 STEP 14 - You will be taken to the "Review & Checkout" page where you will pay for the Transfer. A) If you do need to make any changed to the Domain Name like you would like to Add ID Protection, then you can click the link "Configure Domain Extras" and all is set the way you want it, B) Proceed to Payment Method, select Credit Card or PayPal C) Scroll down to check you agree to the terms of service and D) Click the Checkout button. Allow a few moments for the processing to take place.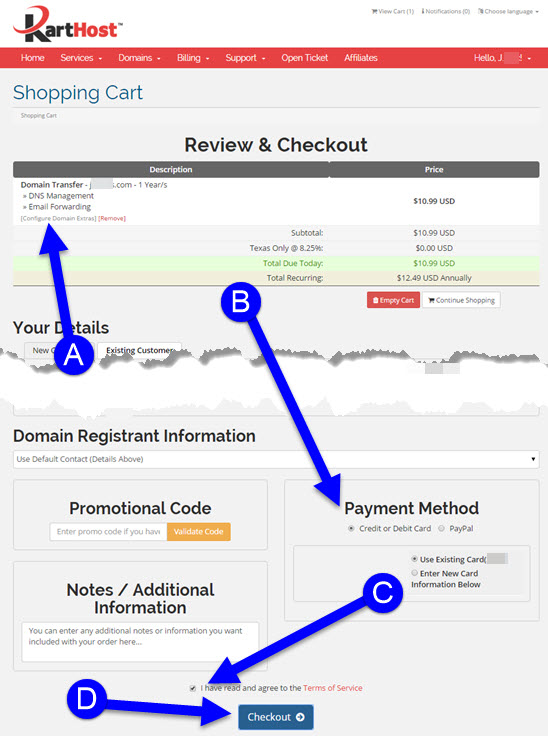 STEP 15 - After payment you will receive the Transfer Authorization email for your domain transfer. This email is critical, if you have not received make sure to check your Junk/Spam folders in your email manager. In that email you will see the "Approve Transfer Link:" all you have to do is click that link to approve the transfer and at this point the actual Transer process will start.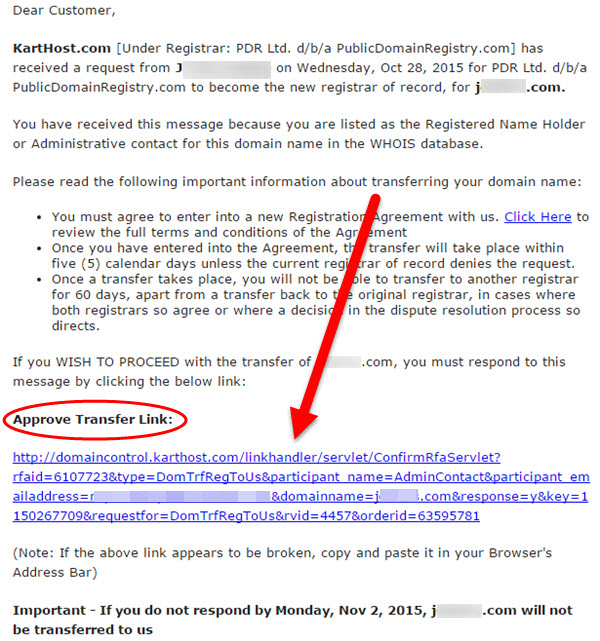 STEP 15A - After you click the "Approve Transfer Link:" you should see a web page that will open like this: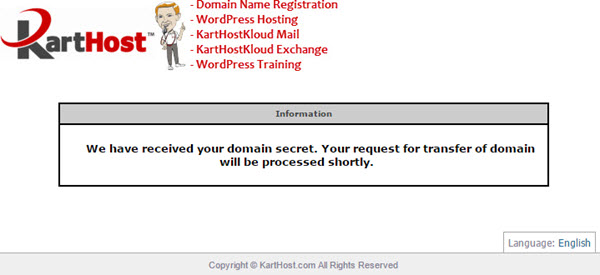 STEP 16 - Now, at this point you do not have to do anything further, your domain name will automatically be moved to your KartHost account within 4 to 7 days. However, if you would like to expidite things a little and get your domain name in your KartHost account within 2 to 4 hours, here is what you need to do.


Go back and log in to your GoDaddy account A) Click on DOMAINS menu B) from the drop down menu click on "Transfers"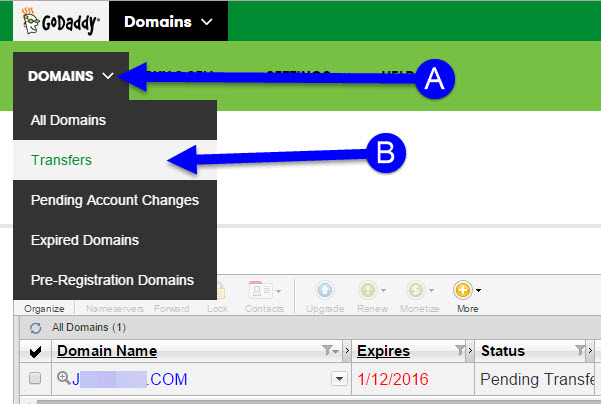 STEP 17 - You will be taken to the "PENDING TRANSFERS" page at GoDaddy. A) Will confirm this domain name is "PENDING TRANSFERS OUT" B) To initiate an immediate release of the domain to KartHost click either the "Accept or decline" link or the "thumbs up" icon, either way a resulting pop up window will appear.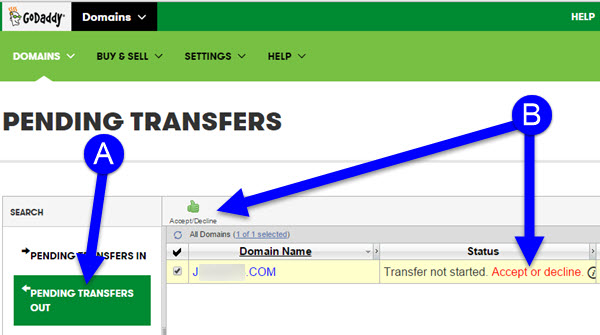 STEP 18 - The pop up "ACCEPT OR DECLINE" window will appear A) Tick the "Accept transfer" and then B) Click the "OK" button.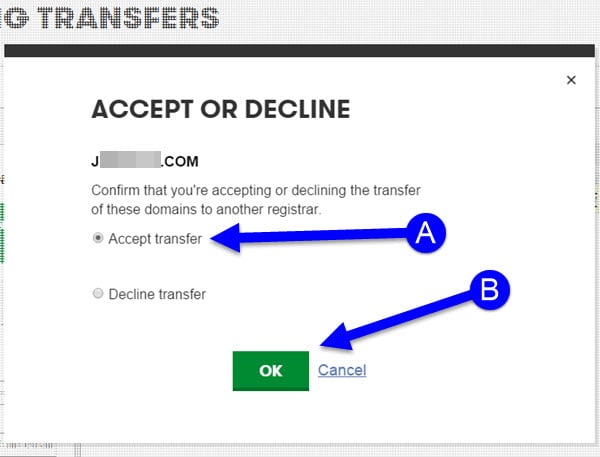 STEP 19 - OK, here is the result you will see in your GoDaddy Account. From this point forward your domain will not be viewable in your GoDaddy account. And will still show Pending Transfer in your KartHost account. Your domain name needs to be sent over to KartHost and processed, this will take about 2 to 4 hours (better than 4 to 7 days) and you will see your domain in your account.




CRITICAL STEP 20 - When your domain name is in your KartHost account, you will be notified by email. And there is one last VERY IMPORTANT STEP YOU MUST TAKE - and that is to Verify your Email Address with ICANN (Internet Corporation for Assign Names and Numbers). 

NOTE: If you have existing domain names registered with KartHost and you are using the same email addres you do not need to do the following, however if you have changed your email address or if you are new to KartHost you do need to follow these instructions: 
You will be receiving an "RAA" email from this email address "[email protected]" please to make sure to add this email to your "Whitelist", if using KartHost KloudEmail service add to your "Safelist". There will be a link in the email that you must click to verify your email.

You only have 15 days to get your email address verified, and if you do not verify in that length of time, your domain name will be suspended until your email address is verified. KartHost does not suspend it, it is done at the Registar level.

END Tutorial

Register a new domain name at KartHost (registering domain names since 2000)