If you have certain email addresses that get caught as spam you might need to add the incoming email address to the KloudEmail Safelist. In some email services you would use your Address book to do this. But the problem with using an Address book is sometimes your email you are trying to white list might not be in the Address book (then your Address book becomes a Whitelist and not a true Address book). You have more control over which email addresses and domains can be whitelisted in its own area, like a Safelist or Whitelist, instead of an Address book, thus the reason we use dedicated Safelists. 

If you are using KloudEmail Professional Mail you can do this either from Webmail (see: An Outside Email is Unable to Send Emails to Me - Adding to Safelist)or the KloudEmail Control Panel (the Control Panel will give you more options on Spam Settings). If you are using Exchange, you will need to use the KloudEmail Control Panel. 

Using KloudEmail Control Panel (https://mycp.karthost.com) Used by Both Professional Mail and Exchange

1) After logging into the KloudEmail Control Panel, click on "Safelist" under "Domain" (note if you wish to add an email to the Safelist for a specific email address click on Safelist under "Email Hosting")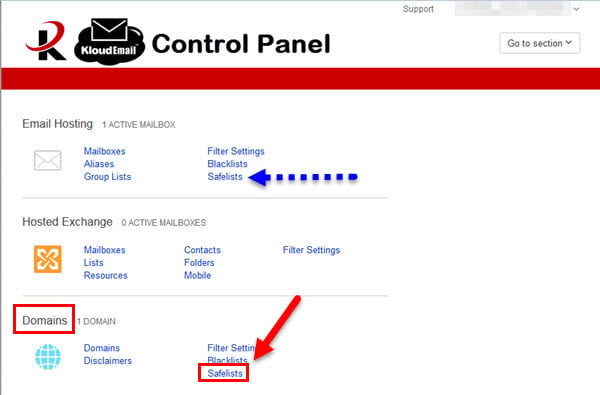 2) The resulting page will be "Safelists for <your Domain Name>". 

A Either add a single email address to Safelist that single email address or add a domain name to Safelist ALL email addresses coming from that domain. (Caution NEVER add free email services like gmail.com, hotmail.com, yahoo.com etc, otherwise you will open yourself up to tons of Spam)
B Now once you have typed your email address or domain click the Add button. And your domain and/or email address will be placed in the box below.
C If you have a large amount of email addresses to add, you can upload a .csv file and upload them all at once.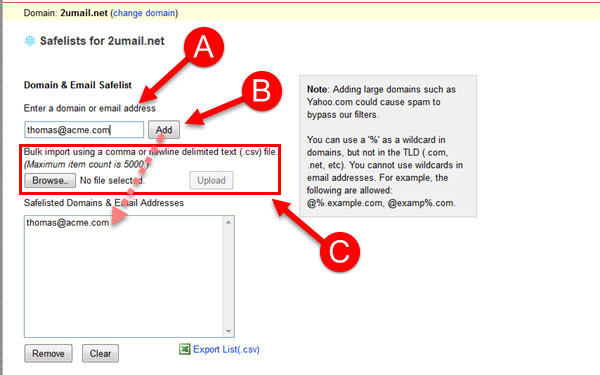 3) Adding a IP Safelist - If you would like to add the IP address of a sending SMTP server you can, normally you would not do this unless there is a very good reason. Many SMTP servers send out mail for MANY domain names, and that in essence would open up your email to any email that is sent by that SMTP server. 


If you wish to add an IP, the process is the same as adding a email address or Domain name to the Safelist. Except you will add the sendings SMTP server IP address.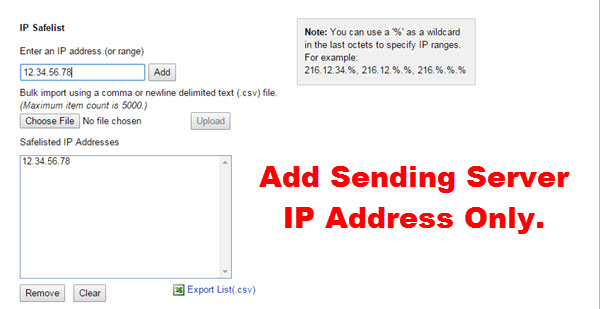 4) Now after adding the email addresses, domain names, and IP addresses to the Safelist, make sure to Save your additions by clicking the Save botton at bottom of the page.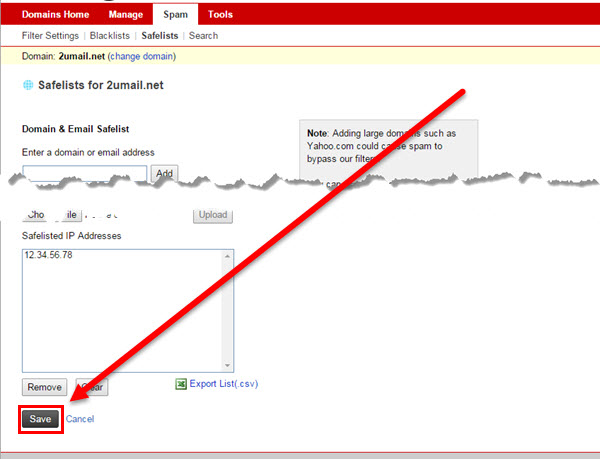 END OF TUTORIAL