Please see January 18, 2022, Official Announcement Regarding this Service.
These instructions will walk you right through setting this up.
To begin you must Login to your KartHost Customer Center Account, with your Owner User Login.
NOTE: This is a One Way SMS service, you will NOT be able to SMS (Text) Back to KartHost.
[1] From the Client Area Home page, click on
(A) 'My Account' top right. You will get a drop-down and click on
(B) 'Account Details'.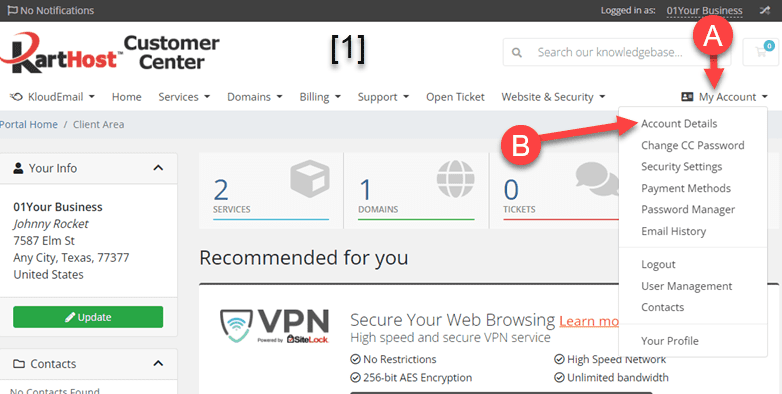 [2] On the resulting 'Accounts Details' page scroll down until you see the 'Cell Phone Number for SMS (Text)' field. Make sure to type in your phone number that can receive SMS messages at the country code first, then your full ten-digit phone number.
Example: (If you live in the USA or Canada, your country code is +1) Type in your Country Code with the "+" in front of the country code and your phone number. In this example let's use 254-555-8888, then type into the 'Cell Phone Number for SMS (Text)' field as +12545558888

[3] Now Check Accept Alert SMS (Text) check box (you will be able to select which specific SMS messages you wish to receive in the following steps).
[4] In the Occasional Marketing SMS (Text) field check the box to receive Members Only Occasional SMS Marketing Special announcements. Note: At the most, we will only send out a few texts averaging no more than 1 maybe 2 per month.

[5] Now go back and (A) click on 'My Account' (top right of the page) and you will see a new Menu Item 'SMS Center'.
(B) Click on 'SMS Center'.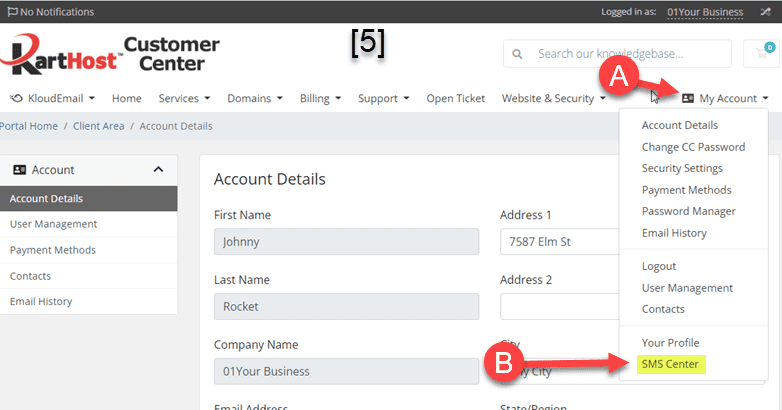 [6] Once on the SMS Center page, you will notice the different 'Templates' or Notices that can be sent to you automatically. 
(A) Notice the different Templates categories. While all are not active, you can click on the category and toggle any or all notifications the KartHost Customer Center will send to you if that notice is triggered.  For example, let's say for some reason your Domain Name Expired, as long as the status is Active for 'Expired Domain Notice' you would receive an Alert SMS Notification.
(B) Shows an Active notification and
(C) shows an Inactive notification. Just toggle the switch to your desired selection.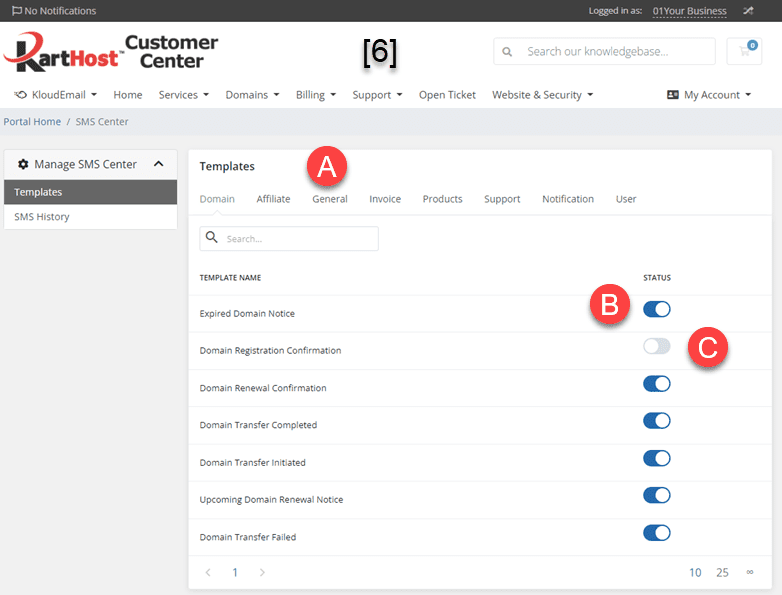 [7] SMS History – You can see the recent SMS (Text) that have been sent to you.
(A) Click on the SMS History on the left 'Manage SMS Center' menu. As shown, you will be abler to see the actual SMS message and date stamp the SMS was sent.
(B) SEARCH - If there are multiple messages on multiple pages, you will be able to search for the SMS by using the Search feature.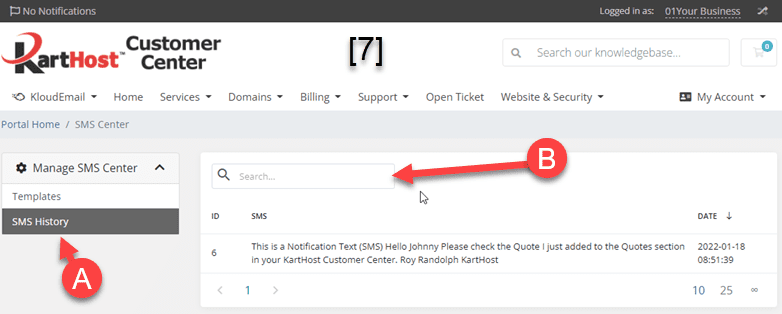 END OF TUTORIAL
Originally Published January 18, 2022