Effective February 19, 2020, all KartHost Customer Center Account holders must verify the email address they are using for their Master Login (not Sub-Accounts/Contacts). This only takes a few short moments to verify.
Reason We are Requiring this: For your account safety and Fraud (new accounts) and to make sure you are aware of the email address you are using for your Master Account.
TIP: if you would like to change your Master Login email address we must do this for you. Open a Billing Inquiries Support Ticket and provide us the email address you wish to change FROM and the Email Address you wish to CHANGE TOO.


Step 1) - When you login to your KartHost Customer Center Master Account a
1) notice that your master account email address has not been verified. This is a simple thing to do
2) Click the "Resend Verification Email" that will go to the email address that you assigned to your account when you set it up. 
3) Once you have clicked the  "Resend Verification Email" button you will need to log out using the Logout button top right. 
Continue to Step 2...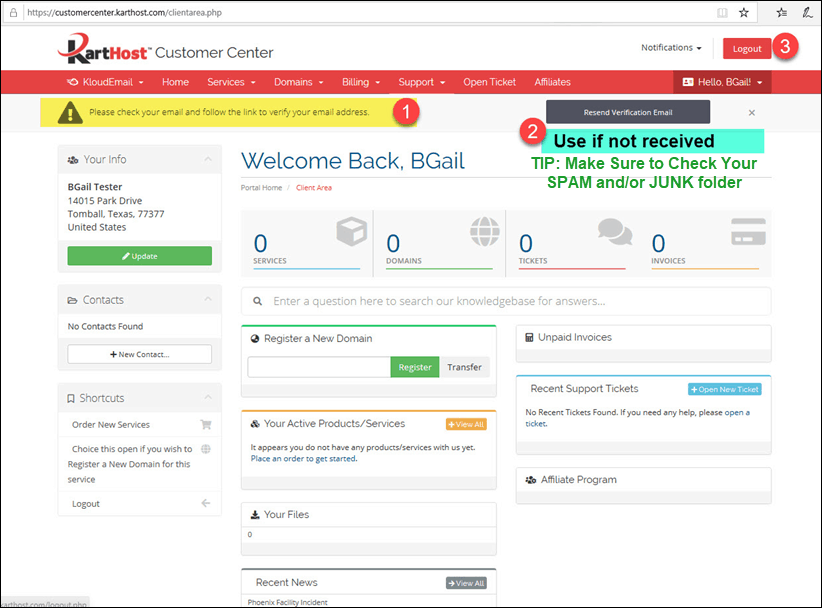 Step 2 - Go to your email address that will be receiving the KartHost Customer Center sent an email to verify your email address. 


4) Click the long link in the email address. Keep in mind this is a TIMED link, it will expire so do not delay clicking it.
TIP: If your email Manager is not allowing you to click it, then you will need to copy then entire URL and paste it in your web browser address window.
DO NOT DO A GOOGLE SEARCH - Google will not know anything about this Unique URL sent to you.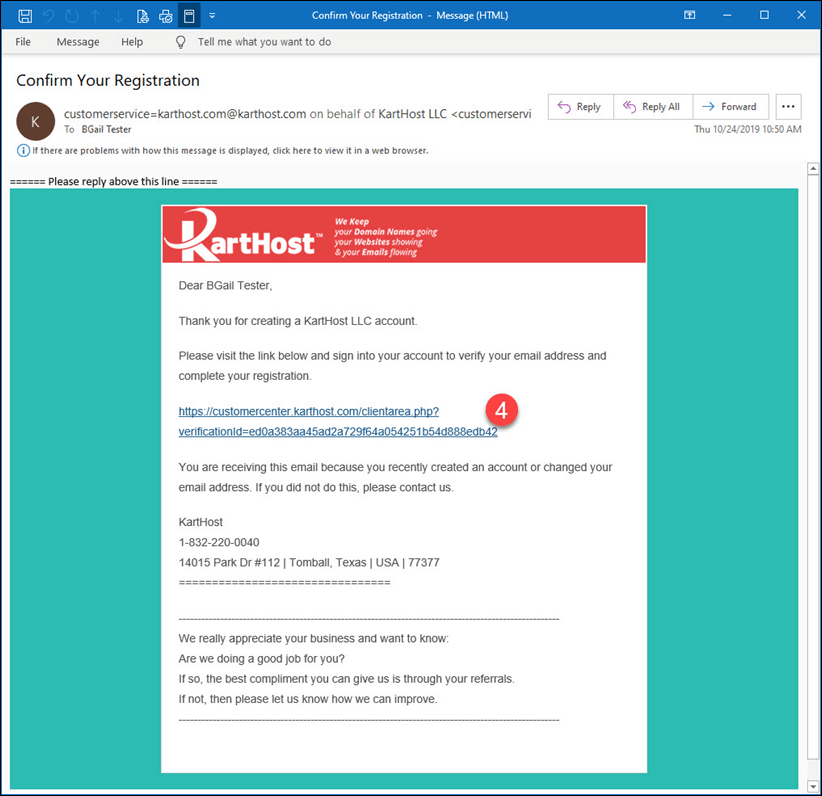 Step 3 - When you click the link in the verification email you will be taken to the KartHost Customer Center login page as seen below.
5) Make sure you're on the correct page check the and see you see https://customercenter.karthost.com/ in the address window
Also, check that you see "?verificationid" and a long id after. This confirms a hacker hasn't redirected you to the wrong place.
6) Enter your KartHost Master email address (the one you assigned to your KartHost Customer Center account)
7) Enter your Password to your KartHost Customer Center account (NOT the password to your email address!)
8) Click the Login button to login.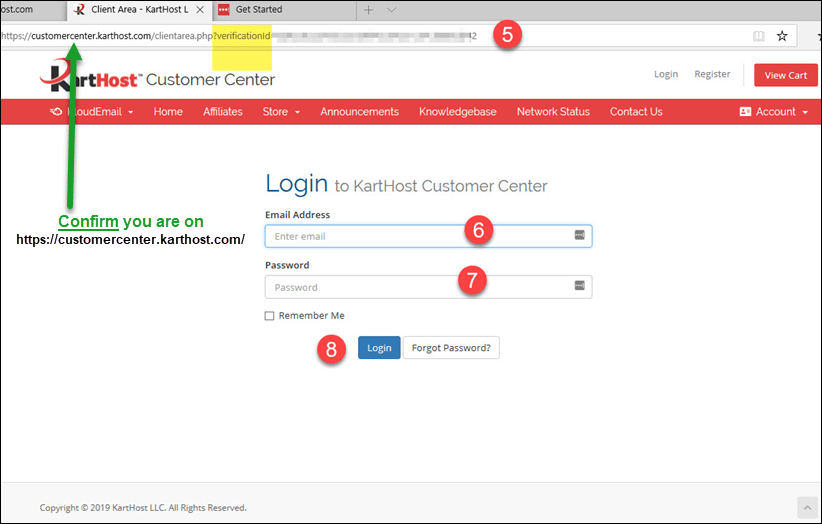 Step 4 - Once you login you see 9) the green banner that says "Thank you for confirming your email address". 
Congratulations!! You have now verified your KartHost Customer Center Master Password email address!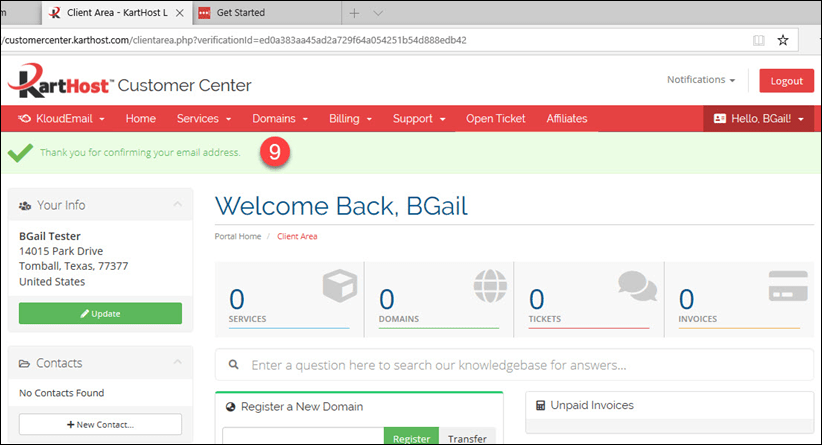 End of Tutorial
PLEASE Give Us a Thumbs Up if you found this Tutorial Article helpful. It encourages us to create more.


Learn More about KartHost Services

Website Hosting
KartHost DIY Self-Managed WordPress Hosting on our WordPress Advanced VPS Container Service
KartHost Managed WordPress Hosting on our WordPress Advanced VPS Container Service
KartHost EZWP Complete packaged powered by our Managed WordPress Hosting
Shared cPanel Hosting 
Domain Name Registration and Research