How to open up a KartHost Technical Support ticket Step by Step Plus video to help you open the ticket in the correct department and get KartHost Kartnatical Support!

View the video below (note it was made several years ago, and your account might not look the same, but what you click on is the same), or scroll down below the video to step-by-step instructions.




There are several ways to open a Support Ticket at KartHost

Option 1) Loggin into your KartHost Customer Center account to open and reply to tickets
Option 2) Sending an email to the proper Support Department (IMPORTANT) FROM the email address you have on file in your KartHost Customer Center or in a Contact/Sub-Account (how to set up a Contact/Sub-Account):
For a list of our email Adress for each department please log in to your account to obtain.

Below is Step By Step After you have logged in to your KartHost Customer Center account.

1) Two locations, A) on the main navigation bar "Open Ticket" or B) in the body of the page blue button "+ Open New Ticket" button.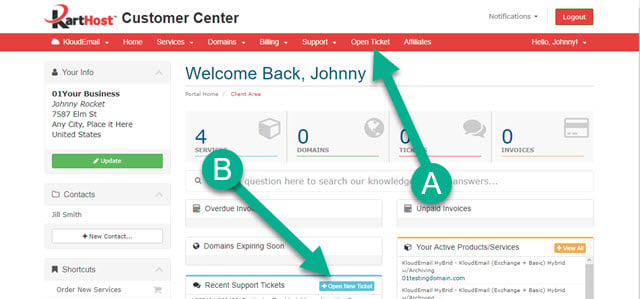 2) On the next page, you will need to select the proper Department.  (Note if your site is offline or some other critical issue always open a Technical Support Ticket)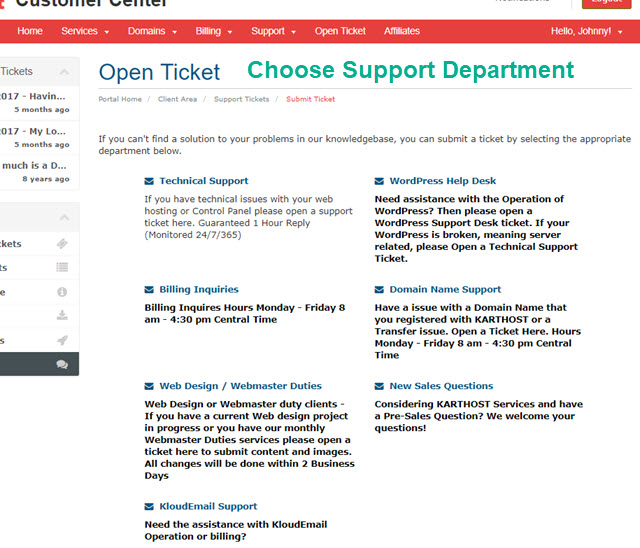 3) Filling Out the Ticket. 

    A) Title - be descriptive as possible in the title.
    B) Department - If you selected the wrong Support Department by mistake you can change the Department here
    C) Related Service - What product or service is this ticket regarding (relating too) please select if all possible.
    D) Priority - Medium is the default. We will get your ticket as quickly as possible. HIGH - Only use if you have a HIGHLY Critical issue that needs Immediate attention like your website is offline.  LOW - You have a question, need something explained. You are not in a big rush but do need help.
    E) Message - The secret to getting your problem resolved as fast as possible is for you to provide as much details as possible. A good rule of thumb is just typing out actually what you did or was doing when the problem happened if a technical issue is a problem). Typing that your site is "broke" isn't helpful.  It will only extend the time it will take to fix the issue. If you received any Errors, Warnings or something that does look correct copy that text and use the Code tag in the Message Editor. Also supply a screenshot, that in itself can save a ton of typing. 
Also, PLEASE only open one ticket per issue. That will keep the confusion done and help us help you.
    F)  Secure Content Box - If you have any sensitive information provide it here. Everything that is placed in the Message box will be sent out in an email unsecured, so make sure to NEVER place sensitive login details in the Message box, just in the Secure Content Box.
    G) Attachments - If you have any screenshots to provide (remember screenshots are good) here is where you will add them to your ticket. The more the better if it will help us understand your issue correctly.
   Tools to make Screen Shots:
     Using Chrome Webbrowser? Use this Chrome Extension: Awesome Screen Shot (try here is link to left doesn't work try www.awesomescreenshot.com)
     Jing - Software (App) you download to your computer and its free! Learn More and Download Jing
     Snagit! - When you are ready to move up to a better Screenshot tool Snagit!$$ & Free Trail (a tool I use every day)
   H) + Add More - Need to add more than one file/screenshot, no problem you can add up to 20, just click the + Add More button.
   I)  Submit - When you are ready to submit your ticket, click the blue Submit button. You're done!




4) Replying to a Ticket - Adding Secure Content After Ticket was opened - As shown in the screenshot below you can click two areas to reply A) Clicking the blue reply area. B) Clicking the green Reply button on the left sidebar.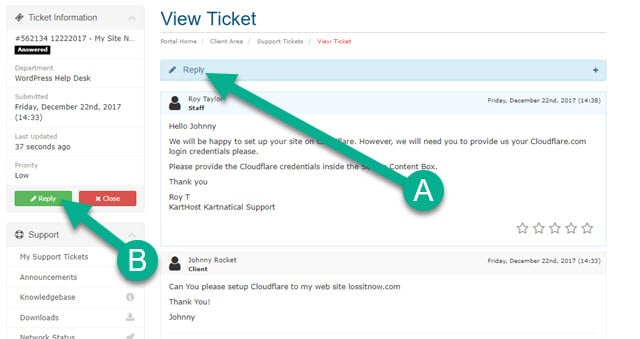 5) Adding Secure Content to an Existing Ticket -  As you can see once you click on Reply to an existing ticket, you will see the Secure Content Box.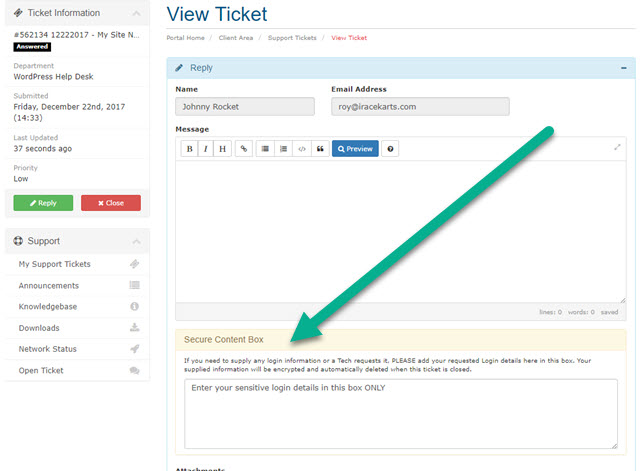 This Completes the Open a KartHost Support Ticket Tutorial.
If you could take the time and let us know if this tutorial helped you by clicking the thumbs up, we would appreciate it.
created December 22, 2017