This Tutorial is for those using KloudEmail Branded Email service at KartHost. 

Do you need to have a legal notice sent with ever email that is send out across your domain? Would you like to have any type message sent when an email is sent out on your domain name? This is possible with the Disclaimers tool that can be activated for either KloudEmail Professional Mail or KloudEmail Exchange Service.
Unlike Signatures which is handled by the device you are using to send an email, a Disclaimer is added to every email, even if sent by multiple devices, like your iPhone, iPad, Android device, Windows phones, Webmail, Outlook or OWA, the same disclaimer will be attached. And your disclaimer will be added to the very bottom of each email.

Watch the Video Below for instructions or scroll down for the step by step instructions:


First, you will want to predetermine the type of legal notice, annoucement or any other verbage you would like going out with every email and have it ready to copy (consult with your legal advisory if needed).
Step 1) Login to your KloudEmail Control Panel account and once logged in look in the Domains area and click on Disclaimers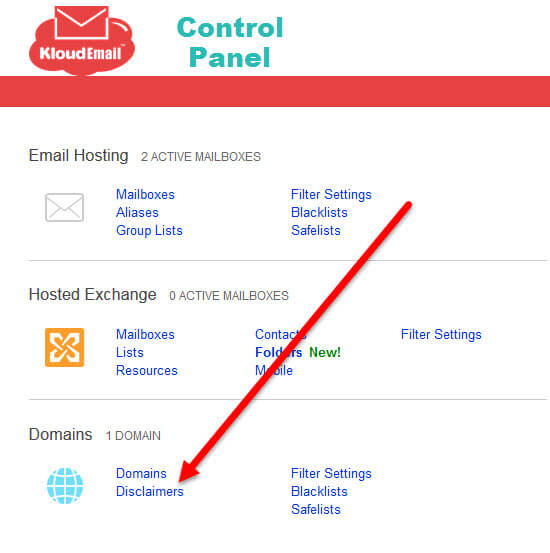 Step 2) On the resulting page you will see to "fields" (or boxes) one is for a Plain-text Disclaimer, the other is if you wish to create a HTML Disclaimer. Simple paste in or type in your disclaimer message in the "Plain-text Disclaimer" box, and do the same with your HTML code you wish to use in the "HTML Disclaimer" box.
NOTE: If you have content in

"Plain-text Disclaimer" 

box and the

"HTML Disclaimer" box

 the "HTML Disclaimer" will be the Disclaimer that will be used. So decide which type of Disclaimer, Plain-Text or HTML you would like to use.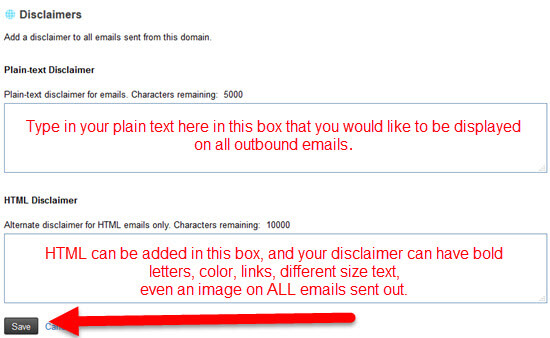 IMPORTANT TIP: Make sure if you are going to use the

"Plain-text Disclaimer" 

 to add line breaks, other wise if you just keep typing or just paste from another source in some email managers the disclaimer will be on one line and keep going to the right until the text ends.
Here is an example email of a using a "Plain-text Disclaimer":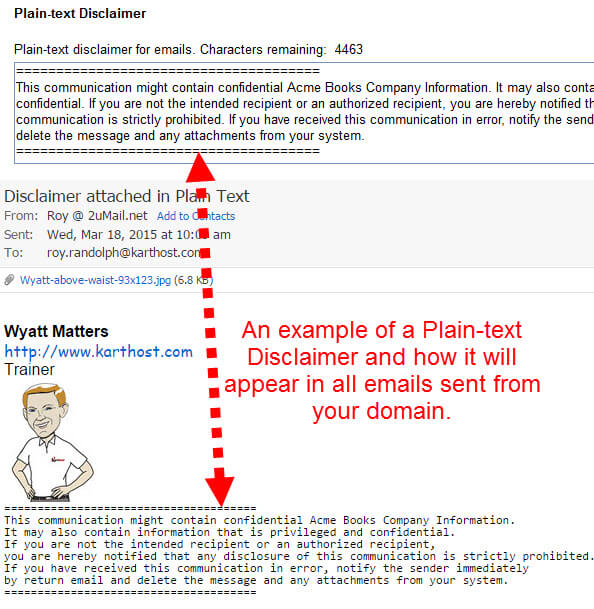 This example is of an email sent using an "HTML Disclaimer":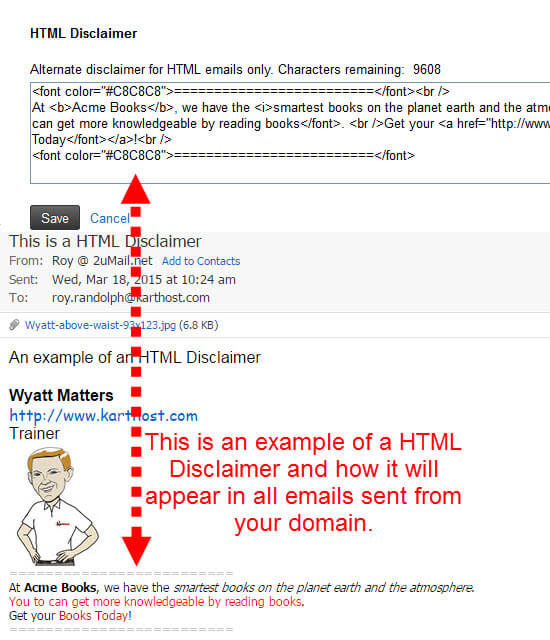 Learn more about the KloudEmail Branded Email 

END OF TUTORIAL 
(If you found this Tutorial Helpful, Encourage us to make more by voting below!)