New User management system. 
User - If you need a person on your team to login to your KartHost Customer Center account to help manage any part of your account for any reason, you need to send an Invite to that person's email of choice to set up a User to access your account. 
Contact - If you wish to have certain members on your team NOT HAVE LOGIN capability but receive certain emails  (like Invoices, Support Tickets, etc.) from your KartHost Customer Center Account, you need to manually set them up as a Contact in your Customer Center Account.
(Coming Soon updates to this page for new screenshots for Adding & Managing Contacts at link below)
   User - Adding and Managing a Customer Center User Account
   Contact - Adding and Managing a Customer Center Contact
*******************************************************
If you have a need to allow others to log in to your KartHost Customer Center account to manage your web sites or just your account you can set up Contacts, and Sub-accounts and personally set the permissions and what emails they will be getting from KartHost.
Also, you can set up a Contact if you have more than one email you want to use with your account. You can do this with Contacts and Sub-Accounts.

 WHY YOU WOULD WANT TO ADD A CONTACT or SUB-ACCOUNT  

Follow these steps on setting up a Contact or Sub-Account.

1) From your KartHost Customer Center home page (portal client area) click on Hello, Your Name!. ("Your Name" will be replaced with the owners account first name). From the resulting drop down menu, click on "Contacts/Sub-Accounts"





2) If you have any existing Contacts (or Sub-Accounts) they will be listed in the A) drop down. Click on the drop down menu B) select "Add New Contact" and C) click the "Go" button.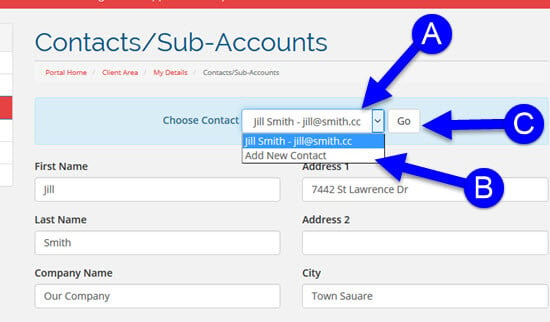 3) Now on the resulting Add New Contact page A) fill in all details for the new contact (all fields are requried except Company Name and Address 2 field).
B) Now under Email Preferences select the email types that this contact should receive from KartHost. A bookkeeper migh need to only have access to Invoice Emails. C)Now Once you have filled out and ready to save your new Contact click on Save Changes.




4 Sub-Accounts) Contacts do not have login capability, however if you wish to add login capability to your account then you will want to turn an existing Contact or your new Contact into a Sub -Account. You have FULL control over what areas of your KartHost Customer Center your Sub-Account has access too as shown from the image below. You will also need to assign a strong password to your Sub-Account as well.

Remember for LOGIN PURPOSES your "Sub Account" will use the Email address and Password that is in the account you created.

A) Click the box next to "Tick to configure as a sub-account with client area access" this will expose the Sub-Account Permissions area and password fields for the Sub-Account.
B) Select all the permissions you wish to give this Sub-Account, if you wish to give the sam as the master account check all the boxes
C) Add a strong password and confirm the password. Once complete with settings make sure to save your changes.

Recommendation - To logout of the Customer Center and then login again with the new Sub-Account you created to confirm the account and test that you have given your Sub-Account all the required permissions or to check to see if you have given to many. Just log out and log back in again as the master account to adjust the settings as required.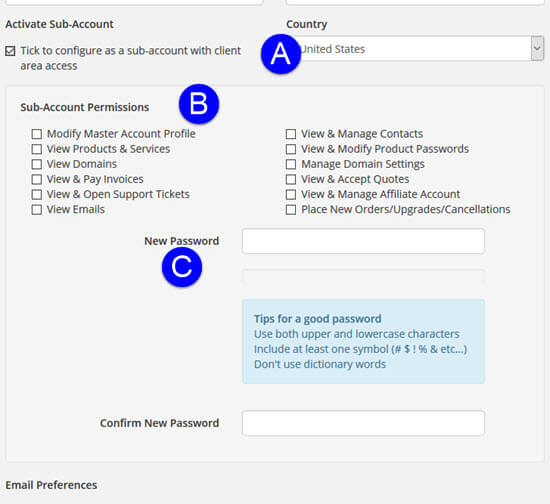 Watch the Video to learn how to set up Contacts and Sub-accounts: