If you have a domain name you wish to redirect to your existing web site, you have two ways of doing this at KartHost.
A) The first way is you can preform the redirect at the domain name level if your domain name is registered with KartHost (If your domain name isn't registered with KartHost you will want to consult your domain name register on how to set up a domain name forward). If your domain name is registered with KartHost please consult this KartHost Knowledgebase Article Domain Name Forwarding - How to Set it up at the Domain Name Level on how to set this up in your KartHost Customer Center Account
B) Now if you have web hosting with another domain name set up, you can use your cPanel control panel to point your domain name to your existing KartHost hosted web site. Here are the steps to do it.
1) After you have logged into your cPanel control panel (via your KartHost Customer Center account Quick Login tab) you will want to scroll down to the Domains block. If your cPanel blocks haven't been rearranged (which you can by click and dragging) the Domains block is the 6th block down from the top. Find the block and click on Parked Domains (

NOTE:

you will only use Redirects if you are pointing your domain name to a specific page on your site, not only on your web site, but any web site on the internet. OR if you are wanting to set up a 301 Redirect if you are changing your web sites domain name to let Search Engines you have a new domain, this you can also do at the domain name level in your KartHost Customer Center account)

2) After clicking on Parked Domains you will see a filed that says "Create a New Parked Domain" go ahead and add your domain name in the field, notice there is a video, no sound, you can watch to show you how to do it in cPanel as well). type in your domain name without the

http://

and without the

www.

just the domain name, like this "mydomainname.com" (without the " " of course) NOTE: The Name Servers for this Parked Domain Name MUST be set to point to the server your hosting is on. If you know the server name (given in your welcome email) you can find the proper Name Servers here in this KartHost Knowledgebase Article: What are my Name Servers for my web site at KartHost?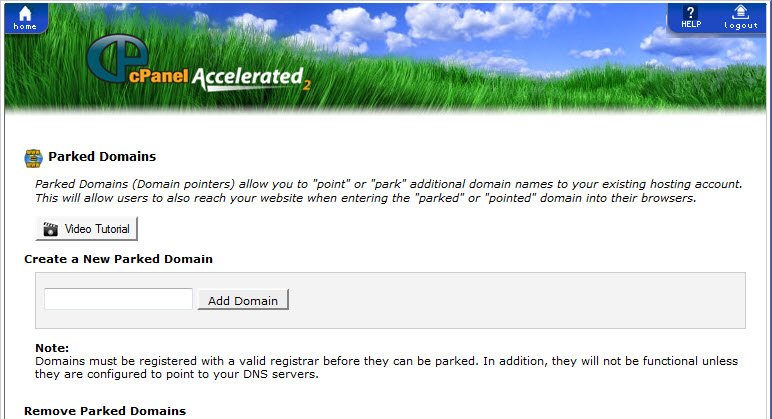 3) Now you will see the following if your domain name has been added successfully as a parked domain to your cPanel account.