Setting your WordPress Home page seems complicated, but it isn't. It's pretty simple once you are shown how to do it.
Any WordPress Page or Post can be the Home page. The trick is the Page (or Post) MUST exist already on your site.
Remember, ANY page can be the home page, and the Page name doesn't have to be named "Home". With that understanding, we can get with it by following these steps.
We are going to assume you are already logged into your WordPress Install
[1] Go to Pages > All Pages; all your existing pages will be loaded on the "Pages" page. Select the page you would like to be the "Home" page. Note the Title of your page.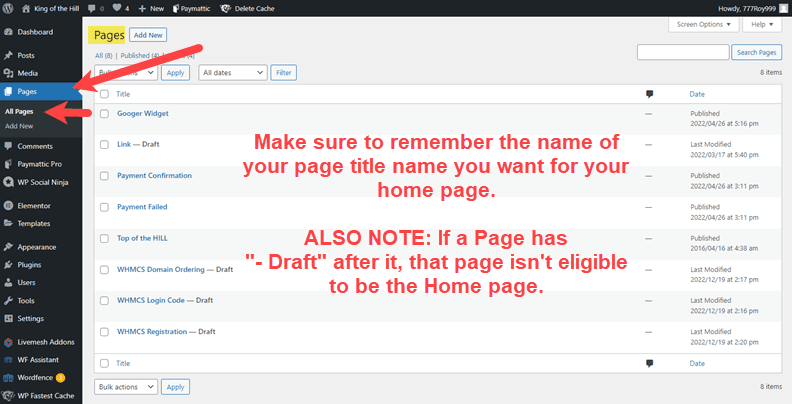 [2] On the left verticle Navigation, let's navigate to Settings > Reading, and this will load the "Reading Settings" page.  (B) On the Reading Settings page, at the top left, look for "Your homepage displays". 
If one of your Pages will be your home page, make sure the radio button next to "A static page (select below)" and the drop-down next to "Homepage" you will get a drop-down selection of all your available pages. You can just select the desired page.
(C) Make sure to click/tap the Save Changes button to save your changes. If you didn't, your changes never happened.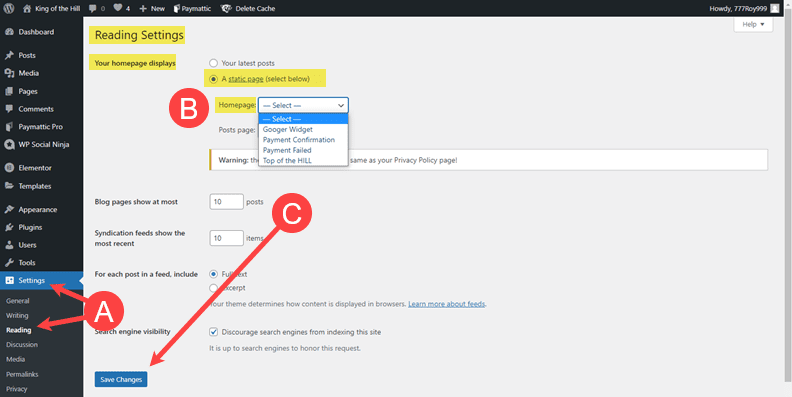 [3]  After you have saved your changes, you will notice the (A) "Settings saved." message is seen. (B) And confirm "Home Page:" is the page you wanted.

[4] Now go back to Pages > All Pages, (A) and you will look to ensure the page you selected as the Home page will have the -- Front Page right after it. Front Page is the terminology for the Home Page in WordPress.

TIP: You can set up many different home pages, for example, an annual sale or a page for seasonal holidays like Thanksgiving, Christmas, New Year's, Valentine's, etc. This way, you can work on these particular pages during the year and, when ready, switch to the Home page by following the instructions above. It makes changing your home page easy!