If you are using Cloudflare for at least your DNS, you might have other Domain Names you wish to forward those domains web traffic to your website's primary domain name. If that is the case here are the steps to accomplish this for you.
NOTE: If you have KartHost Manage WordPress hosting or our EZWP Builder Package open a WordPress Help Desk Support Ticket and we will be happy to do this for you.
If not, then make sure you have Added your domain name to Cloudflare, here is a KartHost Knowledgebase Article to help you: Cloudflare-Adding an Additional Domain Name to Cloudflare
Let's get started…
1)      Login to your Cloudflare Account at https://dash.cloudflare.com and once logged in, select the domain name you wish to work with, by clicking it.
NOTE: If you haven't added the domain name yet to Cloudflare that you wish to forward, please see "Adding an Additional Domain Name to Cloudflare" Knowledgebase article.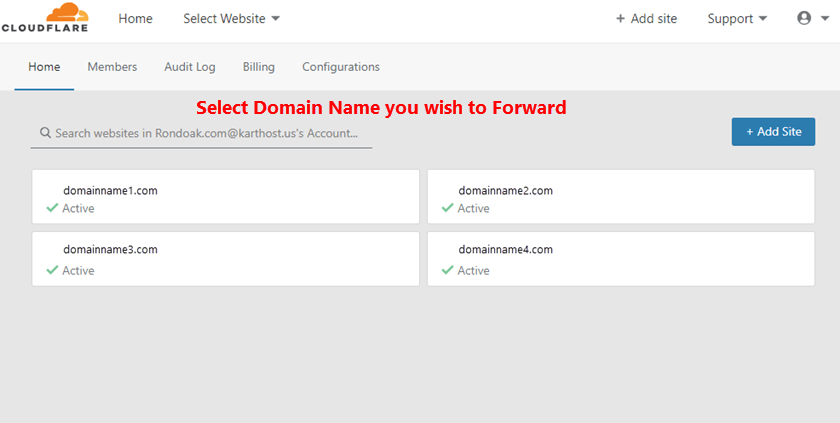 2)      Once you select the domain name you wish to work with, click on the "Page Rules" icon.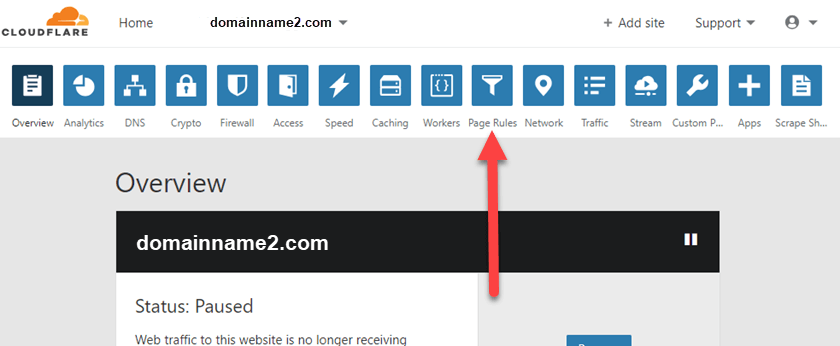 3)      On the Page Rules page, click the 'Create Page Rule'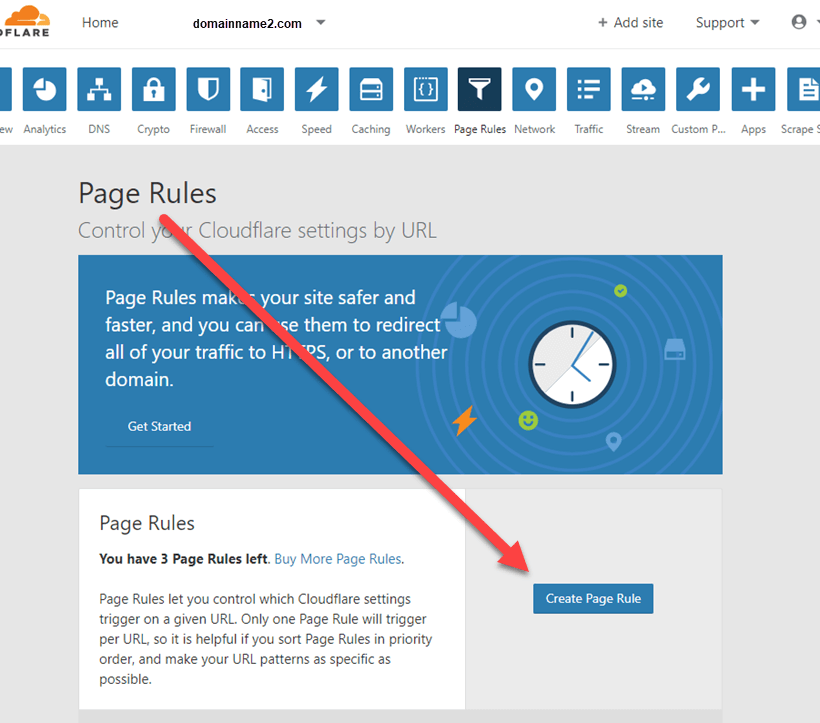 4)      A 'lightbox' will appear and in the field that shows the example add the following (of course remove our sample domain name, domainname2.com and replace it with your domain):
*domainname2.com/*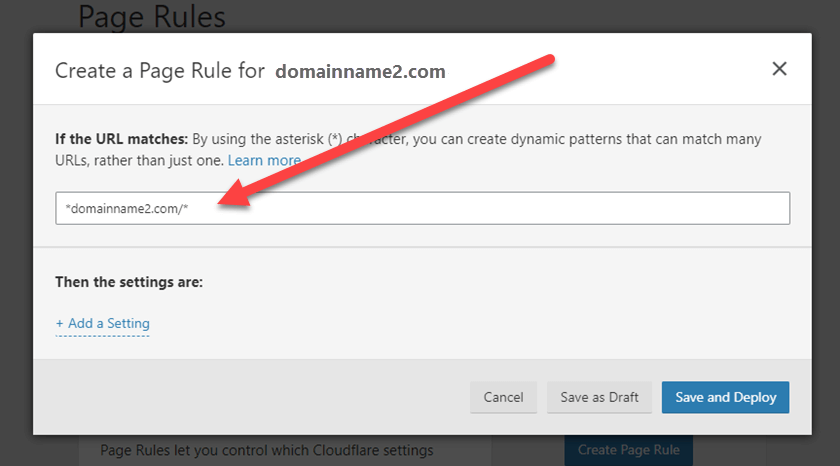 5)      Now under "Then the settings are:" text click the "+ Add a Setting" link. You will see a drop-down field that says "Pick a Setting" click it and a drop-down menu will appear and scroll down on the menu until you see "Forwarding URL" and select it.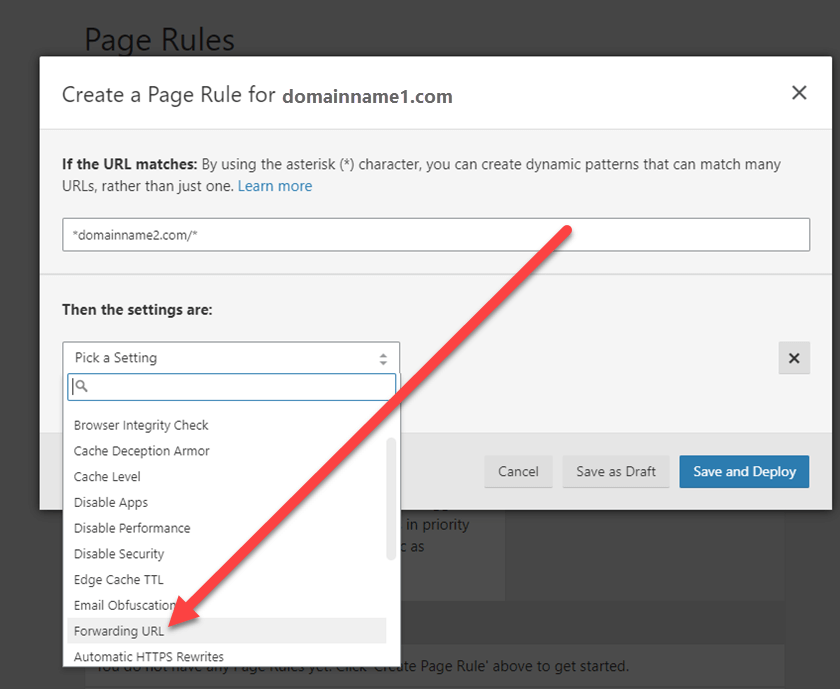 6)      A) From the "Select Status Code" drop-down select "301 - Permanent Redirect". B) Type in the actual forwarding URL (web)address including https:// (or http:// if your site isn't secure). C) The click the "Save and Deploy".




7)      After selecting the "Save and Deploy" you will see the page as shown below with your URL Forwarding set up. (Note if you have changed the Name Servers of your domain that is being forwarded yet, these settings will not work. Only After you change the Domain Name Name Servers to the correct Cloudflare Name Servers will it work.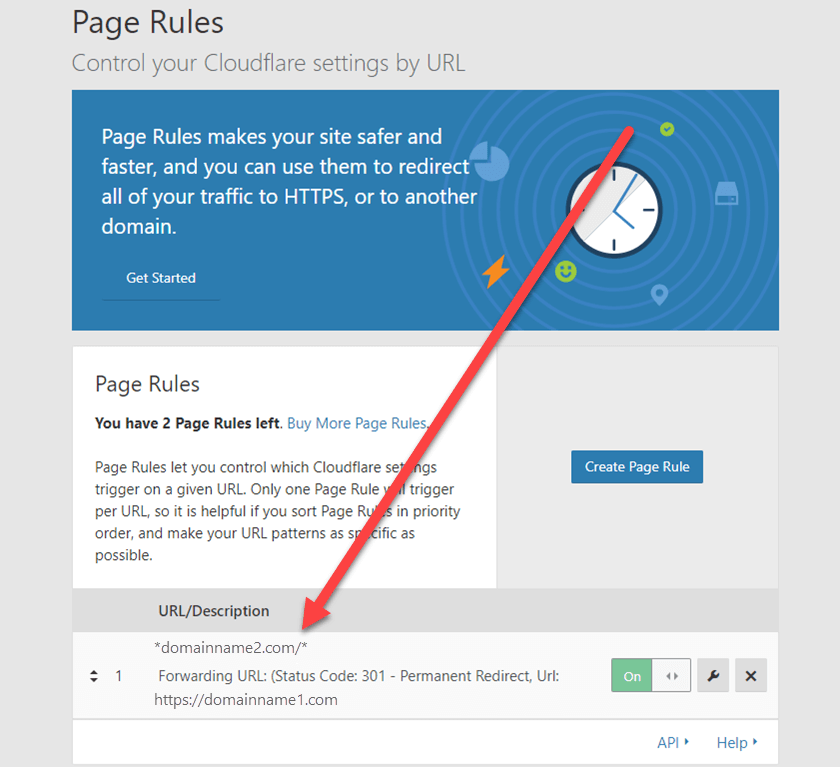 This concludes setting up a Domain Forwarding using Cloudflare.