The Really Simple SSL plugin will help to convert your WordPress site over to full HTTPS. And Really Simple SSL will help to make sure content remains using the HTTPS protocol. (Note this is for WordPress powered web sites only)




Once you have generated your SSL certificate and have HTTPS operating on your web server, you can proceed. Do no move forward unless you have completed this needed step as you will break your site. (Have KartHost hosting? Here is Tutorial Generating a Let's Encrypt SSL Certificate on KartHost cPanel", this needs to be done first.)


1) You will want to make sure you have installed Really Simple SSL to your WordPress web site. If not, install it first before proceeding. 
Once You are logged into your WordPress  install Admin area you will notice the red notice at the top of the page that looks like the below. This is normal.

2) Now you will need to simple change http to https in your web browsers address window. A) Shows what the URL looks like with a typical WordPress URL when logged into the Admin area. Most browsers will not show the default http://

B)

Now at the beginning of the URL type in https:// as shown in image B below.
NOTE: When you type in https:// and reload your page (you must reload as https://)Â you will be logged out of WordPress, this is normal, just go ahead and login again.


3) When You log back in you should see A) a green HTTPS:// in the address bar (if using Chrome or Firefox web browser) and you should see B) the "Almost ready to migrate to SSL!" message that the Really SImple SSL plugin is giving you.
C) Proceed and click the button "Go ahead activate SSL!"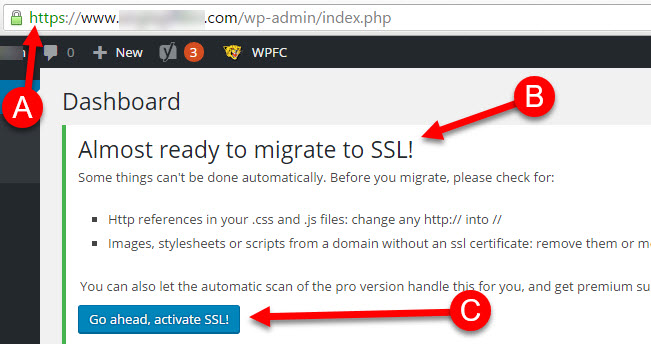 4) After clicking the "Go ahead activate SSL!" this is the message you should see "SSL activated!"

If you have any issues, just login to your KartHost Customer Center account and one of our Techs will be happy to help you.
END OF TUTORIAL.
Note: At KartHost we offer a Custom Install of WordPress, we provide our Managed WordPress Hosting and custom install of many "Pro plugins" along with the BeaverBuilder WordPress site builder tools.
Included in this custom install is the Really Simple SSL  Pro plugin that takes this awesome free plugin a step further to add yet additional security. You can spend months researching for the best plugins for WordPress to create an awesome site or blog. Would you rather research or start on your site immediately? Check out the EZWP Builder package at KartHost. You will be glad you did!