In this tutorial, we will discuss where to find the links where you can login to the KartHost KloudEmail Control Panel.
If you are looking for KartHost Knowledgebase Articles on how to do things in the KloudEmail Control Panel please visit the KloudEmail Control Panel Knowledgebase.
In the Below Sections you will learn...
SECTION 1 - Where to find the links to the KloudEmail Control Panel
SECTION 2 - You show you where to find your login to your KloudEmail Control Panel
------------------------------------------------------------------------
SECTION 1) To login to the KloudEmail Control Panel here is how...
Section 1a) On the KartHost.com website click on All Logins.





Section 1b) The resulting All Logins page, scroll down the page until you see KloudEmail Control Panel Login.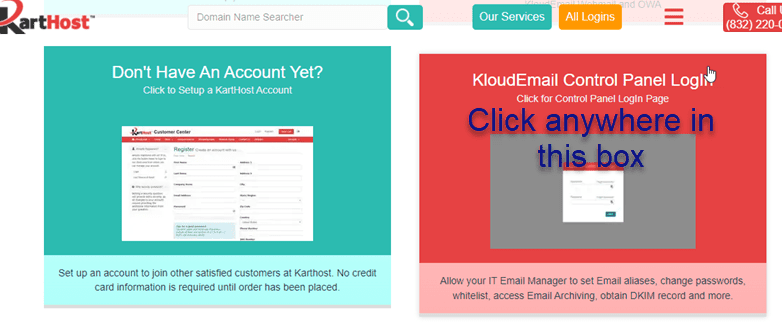 Section 1c) Accessing KloudEmail Control Panel From Inside Your KartHost Customer Center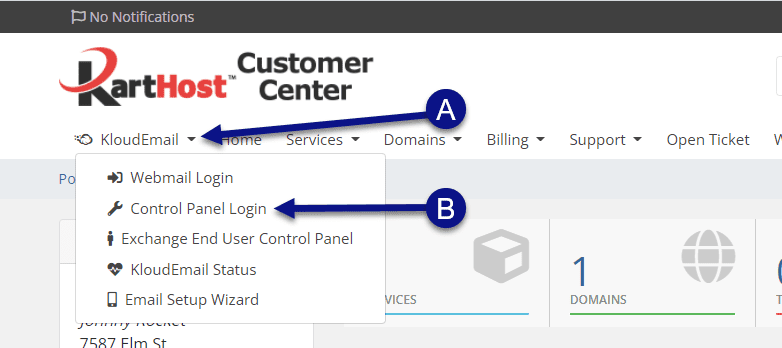 Section 1d) Accessing KloudEmail Control Panel by typing in the URL In Your Webbrowser Address Field

This option is to open your favorite web browser and just type in the URL (Address) of 
https://mycp.karthost.com/
SECTION 2 - Where to Obtain Your Username & Password to Your KloudEmail Control Panel
Section 2a) Regardless of which Option You Choose above You Will land on The KloudEmail Control Panel Login Page as shown below.
(A) You will enter your Username Here (see next step how to find your Username and Password)
(B) Enter your KloudEmail Control Panel Password Here.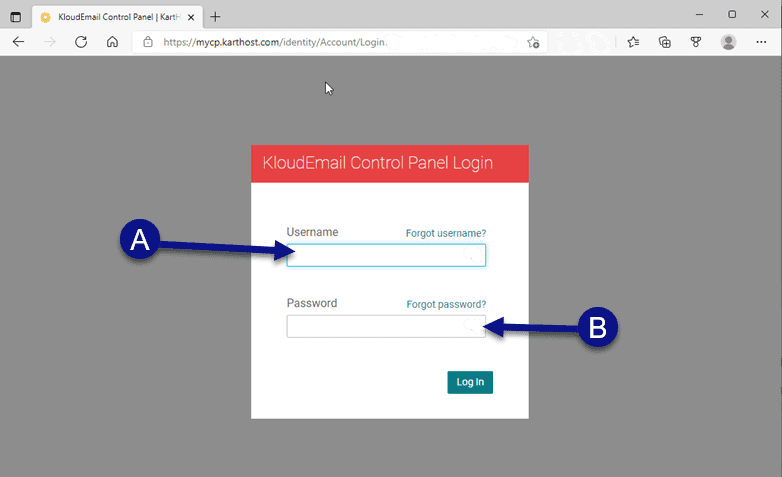 These Steps Below will show you how to Find Your KloudEmail Control Panel in your KartHost Customer Center Account.
Section 2b) Click on
(A) My Account and from drop-down menu
(B) Password Manager

Section 2c) After arriving at the Password Manager page click on the (A) PRODUCT PASSWORDS block.

Section 2d) Look under...
(A) PRODUCT/SERVICES Column for your KloudEmail Product and next to it
(B) under the USERNAME column, you will need to copy your Username and
(C) under the PASSWORD column click the "eye" so you can see your password and copy it.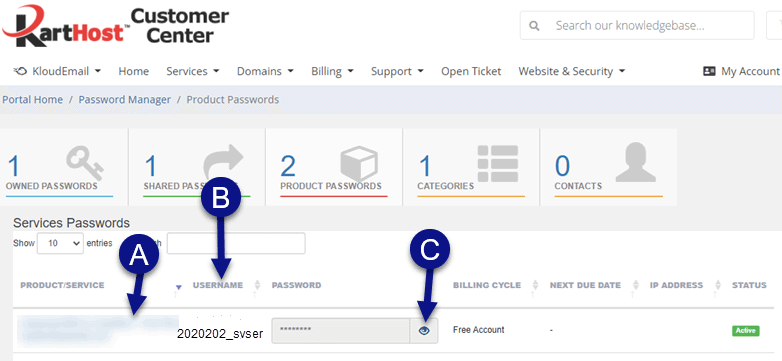 * NOTE
1: If you have forgotten your password but know your Administrative ID, you can click the "Help! I forgot my password" on the login page.
2: If you have lost or forgotten your Administrative ID and Password, please refer back to the Welcome Email you should have received on the day you purchased your KloudEmail service for that information, as long as it hasn't been changed since then. You can also login to your KartHost Customer Center account and go to Services > My Services > Locate your KloudEmail service and click the View Details button >  Change Password tab and you will see the Administrative ID and Password for your account listed as Username/Password. (Note: You can not change your password from this page, contact support to change the password).
updated January 24, 2022
END OF TUTORIAL
Learn more about KloudEmail