Rackspace Hosted Exchange is no longer being offered.  Rackspace has discontinued its service. If you exploring Hosted Exchange Alternatives, please visit the KartHost Hosted Exchange by Zix|Appriver page.
Should you need to restore an email you purged from Trash in the past 14 days or less, you have this capability using Exchange, either OWA (Outlook Web Access) or your version of Outlook.

First, we will discuss restoring email using OWA (Exchange 2016). See Step 5 for using Outlook 2016 to Restore.

1) You will need to open a web browser and login to OWA. You can do this at https://webmail.kloudemail.com/

2) Once logged in to your version of OWA you will want to A) On the left side Right Click on the "Deleted Items" folder. B) When the Drop Down Menu appears select "Recover deleted items..."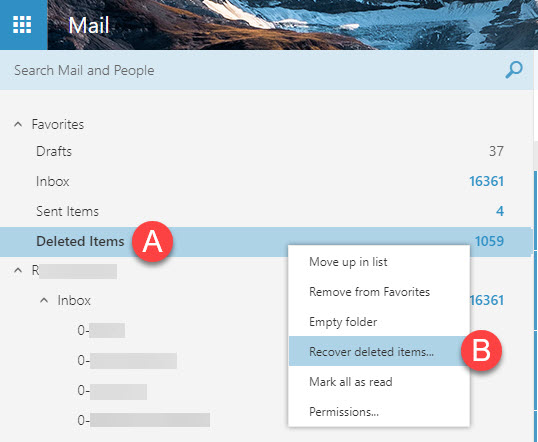 3) Now in the window that pops up, A) click/highlight the message(s) in which you wish to recover. B) Click Recover (top left).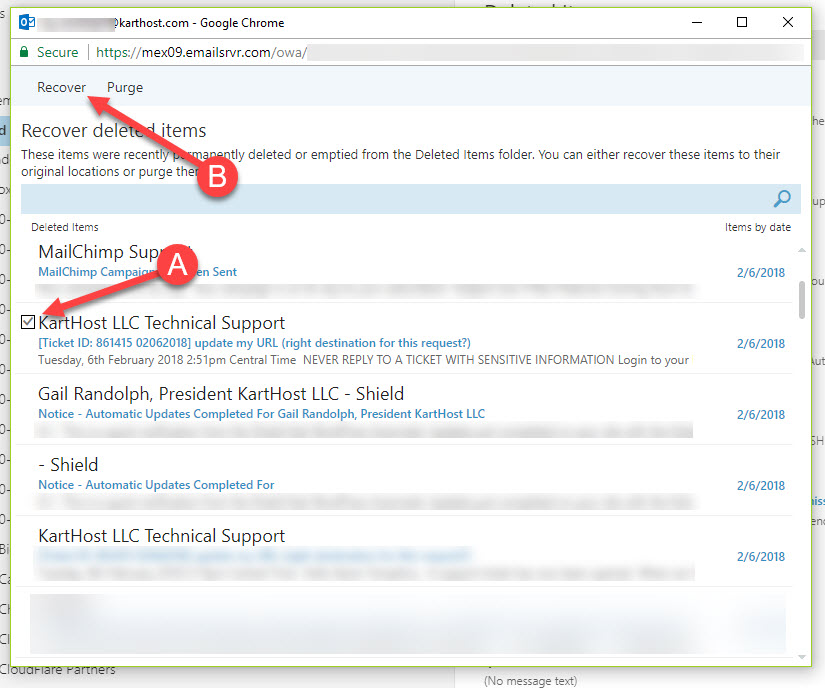 4) The "Recover items" box will appear and the info in the box is "FYI" so read it and then click "OK". Your emails will now be recovered.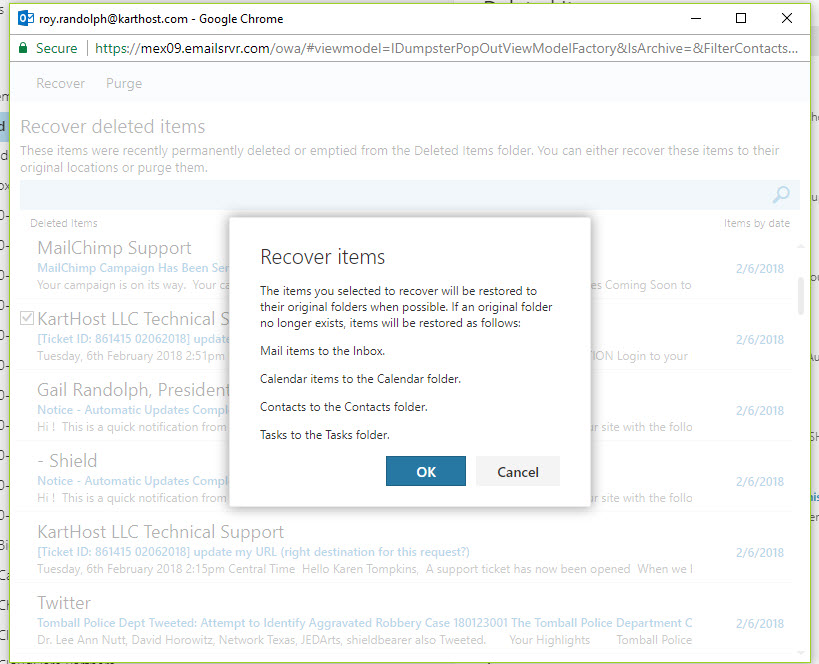 END of OWA Recover Emails

Restoring Emails using Outlook 2016

NOTE: If you do decide to use Outlook 2016 to restore your lost emails. Depending on the power of your computer and the speed of your internet connection, will depend on how successful restoring emails from your copy of Outlook 2016. Because of this we highly recommend you restore from OWA in steps 1 - 4 above.

5) You can recover some deleted items like emails, messages, appointments, contacts, tasks, and notes, even after the Deleted Items folder is emptied. Remember this works ONLY if you are using Exchange (Active Sync), does not work if you are using POP3 or IMAP (KloudEmail Basic or KloudEmail Suite) accounts.
The first thing you will want to do is to click A) Folder > B) Recover Deleted Items. Just keep in mind if you do not see the Recover Deleted Items menu you are not using an Exchange account.





6) The "Recover Deleted Items" box will appear. A) Select one or more of emails you wish to recover (if you wish to recover all emails use the "Select All" button bottom left). B) Select if you wish to "Restore Selected Items" or "Purge Selected Items" and then click the OK button and your emails will be restored.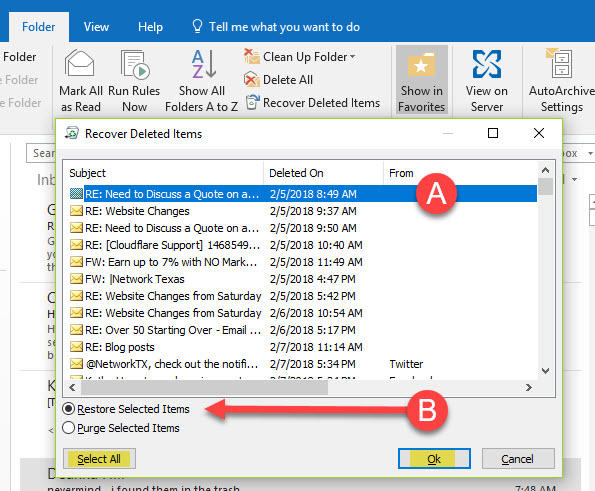 END TUTORIAL
updated February 19, 2018