Rackspace Hosted Exchange is no longer being offered.  Rackspace has discontinued its service. If you exploring Hosted Exchange Alternatives, please visit the KartHost Hosted Exchange by Zix|Appriver page.
If you have KartHost KloudEmail Hosted Exchange service and you wish to add an additional email mailbox (user) first you will need to make sure all your allocated users are not currently taken. Which we will show you below to to check that. But if you do not have any more user allocations you can contact KartHost Sales and request additional users.

Autodiscover Note: Make sure your Autodiscover is set up in the DNS service that is handling DNS for your domain name. Allow up to 24 hours internet propagation after you enter your Autodiscover into DNS. Learn more about Exchange Autodiscover

NOTE: Keep in mind if you do not wish FULL Exchange capability but do need another mailbox, remember KartHost KloudEmail offers Hybrid email on the same domain name. That means you can have any number of Exchange users and KartHost KloudEmail Basic or KloudEmail Suite on the same domain.

Step 1) Make sure to login to the KartHost KloudEmail Control Panel. You can simple do this by going to www.karthost.com and at the top right of the page mouse over the black button that says "Login" and on the resulting login page click on the KloudEmail Control Panel block. On login use your assigned Admistrative ID and password to login.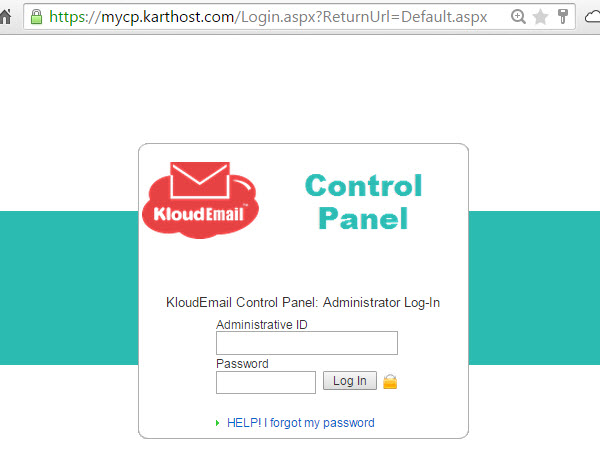 Step 2) After you have logged into the KartHost KloudEmail Control Panel you will want to look in the Microsoft Exchange box for the link, Mailboxes and click on it.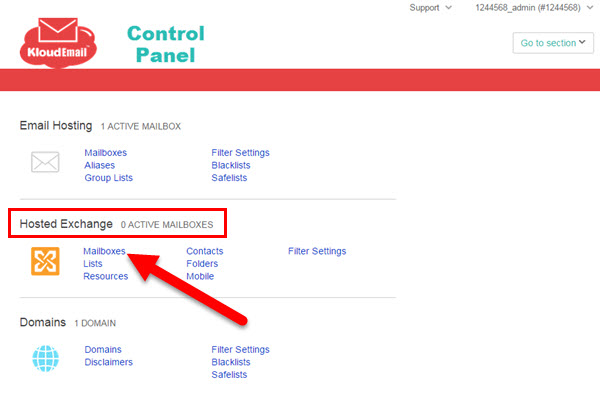 Step 3) Now if you still have additional mailboxes available to assign, the "Add Mailbox"  will be clickable. So go ahead and click the "Add Mailbox".
NOTE: If all mailbox allocations have been assigned, the "Add Mailbox" button will be grayed out and you will need to request additional Mailboxes from KartHost Sales. Call us at 832-220-0040 ext 101 (or just open a Sales Support Ticket and give use the domain and additional number of mailboxes needed). We will be happy to set this up for you.




Step 3A) Note) You will notice that under "Mailboxes" it shows you how many mailboxes you are using and have allocated. For example the image below it shows "Using 0 of 10 mailboxes". The (zero) 0 digit shows how many mail boxes you have set up and the 10 shows how many has been allocated.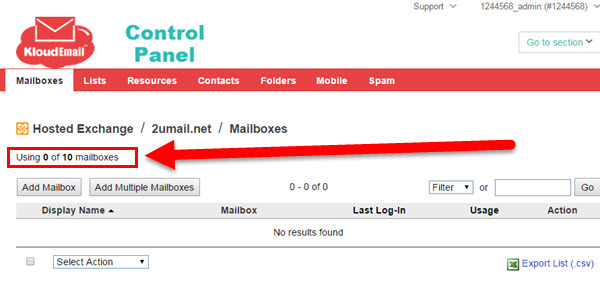 Step 4) You will now be on the Add Mailbox page. Fill in the User Details any thing with a red asterisk *. Then decide what the new mailbox username will be (everything in front, to the left, of the "@" sign) and then assign a password to this account.
PASSWORD NOTE: KartHost as well as the FBI Cybercrime devision highly recommends at least 9 characters both uppercase and lowercase letters and numbers (and special characters) for the password.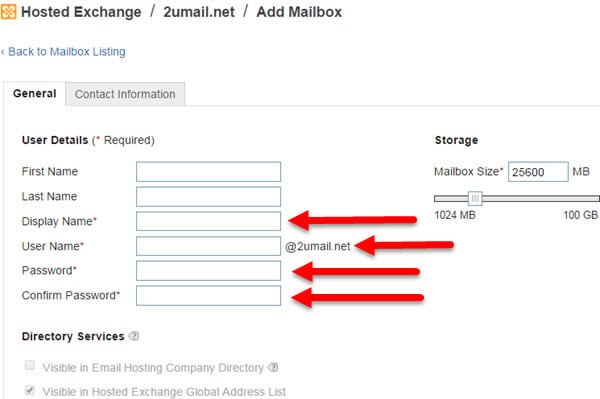 Step 5) Before you save you will want to allocate the amount of mailbox storage the user will have. The default is 25600 MB (25 GB). 1) Use the slider to move left or right to decrease or increase the mailbox size. You can have as high as 100 GB (102400 MB) of storage if you wish without cost.
OPTIONAL: You can click on the Contact Information Tab (as seen by arrow 2 below)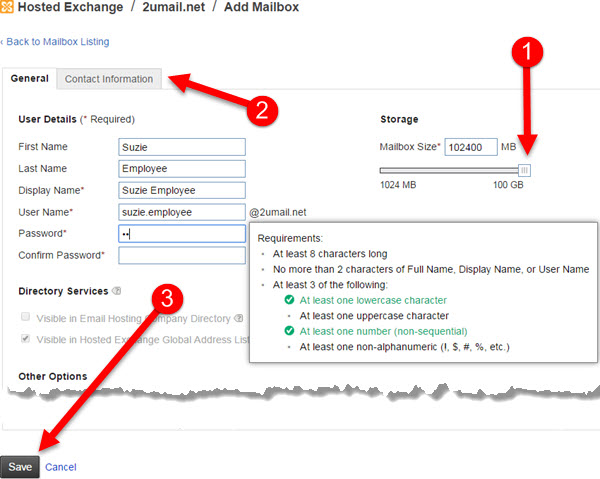 3) If you do not wish to fill out the Contact Information page, you can go ahead and click the Save button at this time and the email will be set up in about 2 to 3 minutes.

If you DO wish to fill out the Contact Information tab this will provide information about this mailbox user in the company directory within Exchange. Mouse over the "?" next to customID field to get an explination as to the purpose of that field and as shown in the image below.

When Finished creating the new Mailbox just click the Save button after Step 5 or this step.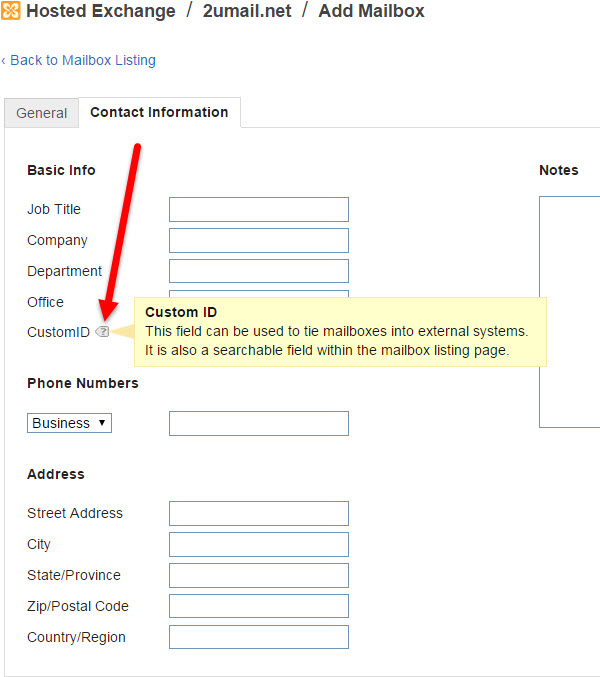 Step 7) After you click on the Save button you will see the now Mailbox and user listed on your Mailbox pages. And you will see the Using 1 total of the Using 1 of 2 mailboxes go up.
Please allow 2 to 3 minutes for new mailbox to be created on the Exchange system





IMPORTANT Add ActiveSync - With the new mailbox / user set up, you will need to activate the ActiveSync, do not forget other wise you will not be able to connect your smartphones and other mobile devices.

Step 8) Setting Up Your Clients Email - Ok, now you will want to get the clients Outlook, smart phone and other devices set up quickly to start using the new Mailbox. You should have the autodiscover already set up in DNS for the domain name you are using, if so you will be able to use Automatic set up, other wise you will need to select Manual set up in this step.
Either point your client to this helpful Email Setup Wizard at this web address: https://help.emailsrvr.com 

You will arrive at the login at this web page: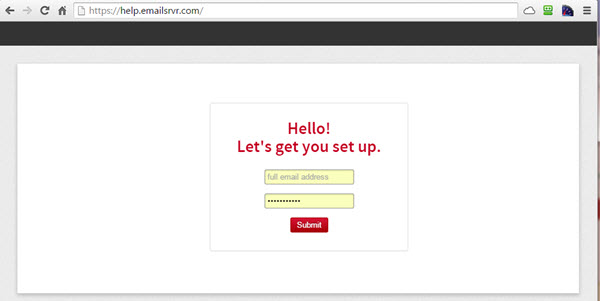 Log in to this page using the email address you just set up and the password you assigned to the email mailbox.

STEP 9) After Logging in to the set up tool. You will see "Would you like to configure Hosted Lync or Email?"
A) You will want to click on Email, for setting up your email account on the device on the next step.
B) If you added Lync service the Lync Icon will be clickable, if not it will be grayed out. See Setting up Lync for more details.






STEP 10) Next slect the type of device you wish to set your Computer (Outlook etc), Phone, Tablet, Other (will include all values you will need to set up any non standard type of device). In this Tutorial we will just select Computer.





STEP 11) Now click on the icon of the operating system of your computer, Windows computer, OS X (Mac) computer or a Linux based computer. In this tutorial we will select Windows.





STEP 12) You will need to select the Email Client you are going to use. Tip: Just compare the ICON of your email manager with what you see at this step. For this tutorial we will choose Outlook 2013.





STEP 13) In this step you will want to select either Automatic or Manual. We recommend Automatic. BUT if you do choose Automatic, make sure you, or your IT Admin has set up your Autodiscover DNS record, or Automatic will not work, and you will have to use Manual. (Tip: a tool to check to see if you have an Autodiscover DNS record set up for your domain go to www.whatsmydns.net and type in autodiscover.yourdomain.com, replace yourdomain.com with your real domain of course, and then select CNAME from the drop down and then click search. In the return you should see autodiscover.emailsrvr.com)

Regardless if you select Automatic or Manual, just follow the instructions given, step by step.





End of Tutorial - If you still have question please do not hesitate to contact Support. 
If you found this tutorial helpful, we would appreciate you voting Yes below.

Learn more about KartHost KloudEmail Hosted Exchange service and our KloudEmail Basic and KloudEmail Suite service. Branded Business Class email you can trust.
Update April 26, 2015