Please Note: KartHost Does Not Support cPanel Email Any lLonger - For Custom Email visit: KloudEmail.com
If you have forgotten or lost your password for an email mailbox you set up in the cPanel control panel, you will need to change that password in your cPanel control panel for said email mailbox.

Now if you know the password you can reset the password in Webmail AFTER you have logged in to Webmail. Click here for Instructions for resetting your email password after logging into Webmail.

Here is how to do this via cPanel control panel:

1) Assuming you have already logged in to your cPanel control panel, you will look for the "Mail" block and inside that "Mail" block you will click on the "Email Accounts" icon.



2) Now on the resulting page you will see the email address in which you wish to change the password, click the Change Password link to the right of the email address under Actions.




3) When you click Change Password link this will open up the Change Mail Account Settings menu. Just type in your new password in the Password field and then retype it again in the Password (Again) field. NOTE: You will want to have a STRONG password. To achieve this you must use UPPER CASE and lower case letters, numbers, and special characters. We recommend a minimum of 9 digits in any password. Now you can use the Password Generator (button show with green circle around it) and it will help generate a stong password. We recommend you use it.




4) Now click on Change Password button to set the new password. You should see a green confirmation message showing that your password was successfully changed.




TIP: You will want to try out your new password, recommend that you go to your Webmail login page to test your email address and password combination to confirm your password is working. If you can login into Webmail your password is correct.


IMPORTANT: If you have any email manager (like Outlook) or portable device like a smart phone (iPhone, Andriod etc), tablet (iPad, Andriod Tablet etc) of any kind set up to use POP3 or IMAP you WILL NEED TO CHANGE YOUR EMAIL ACCOUNT IN THAT DEVICE TO YOUR NEW PASSWORD.

Changing your email mailbox password if you know existing password:

1) If you already know your email mailbox password, go to Webmail and login and then on the following page click on "Change Password" icon.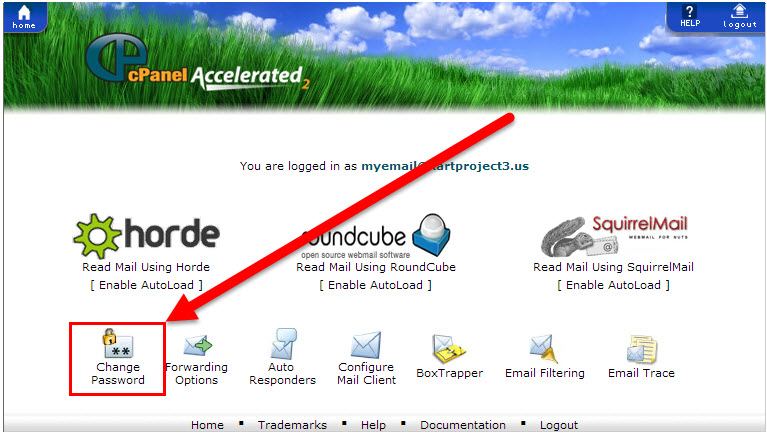 2) Now add your new password to the "New Password:" field and again in the Password (Again)" field making sure you have a STRONG password based on the Strength meter (recommend you us the Password Generator (circled in green) to create your password. Now click on "Change Password" button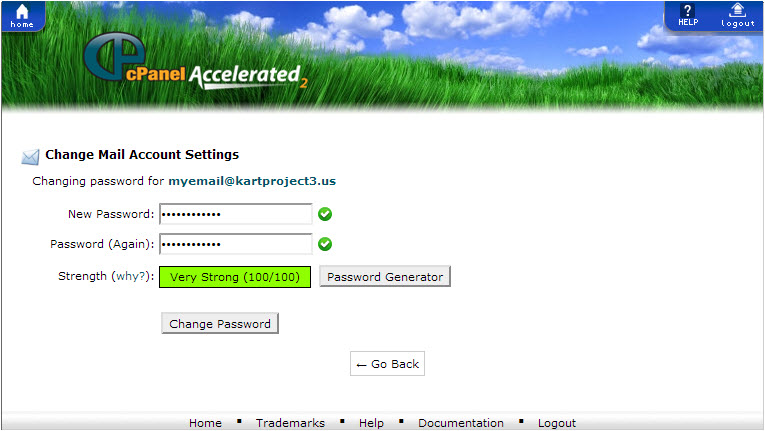 3) After a succesful password change you should see the page similar below: